Swap platforms are gaining a lot of popularity. More initiatives are looking at the possibility of creating high-quality, secure, decentralized, and efficient platforms. Liquidity pools and decentralized smart contracts, which establish a fair method for new digital assets to construct a secure and fair local economy, are in high demand.
If you thought you'd seen everything in the swap finance world after Uniswap and Pancake Swap, you'd be incorrect. Since the open-source community has been the fastest-growing of the decade, more projects are now able to extend their ideas on top of the robust underground that today's dominant platforms have created. ZEXSWAP is one of the newest upcoming swap platforms.
What is ZexSwap Finance?
Zexswap seeks to give traders and investors better rates and returns. Zexswap is now delivering a more appealing APR than any of the leading platforms. Zexswap is the real underdog, emerging from the shadows of Uniswap and Pancakswap to compete with the industry's top competitors in financial swapping.
ZexSwap Finance is a Binance Smart Chain Modern Yield Farm and Defi Aggregator. That presently has a market capitalization of about 130,000. Farming, staking, nft, and TimeLock is just a few of Zexswap's features. There are just 144 holders currently, and liquidity mining began only yesterday. It is a pancakeswap clone with built-in deflationary characteristics. As of now, the total worth is $267,400. Unicrypt has been used to lock liquidity, making Rugpull proof. A minor deposit fee is charged by some farms and pools, which is used to repurchase Zex. There may be some solid gains to be realized with such a small number of holders. The current annual percentage rate (APR) is about 7000 percent. They have announced a collaboration with ApeSwap.
Let's take a look at the different aspects of ZexSwap to see if it's a scam or not.
Is Zexswap legit or a scam?
Zexswap. Finance is a top-level domain registered under the FINANCE domain—the most recent verification results for Zexswap. Finance was done on (April 03, 2021) and shows that the domain has a valid and up-to-date wildcard SSL certificate issued by Encrypt that expires on June 28, 2021. According to Google Secure Browsing and Symantec, the domain Zexswap. Finance is somewhat safe. Zexswap is a perpetual deflation token with a sufficient burn mechanism that allows for a steady price pump. Zex is not attempting to replace swap and exchange but rather to add value to the system and provide an appropriate and sustainable environment for individuals to grow high APR farms.
However, according to crypto influencers, the new features that are offered on the Zexswap platform are scams.
As of today, the last reported ZEX price is $0.031699. ZEXSWAP Token's last market cap was unknown. 24-hour ZEX volume is unknown. It has a market cap rank of. ZEXSWAP Token is traded on 1 exchange, with the top exchanges being PancakeSwap ($0). ZEXSWAP Token had an all-time high of $2.1402 about 1 month ago. Over the last day, ZEXSWAP Token has had 0% transparent volume and has been trading on 2 active markets, with its highest volume trading pairs being ZEX ($0) and BUSD ($0).
The Zexswap Telegram Group still exist but no longer allows users to comment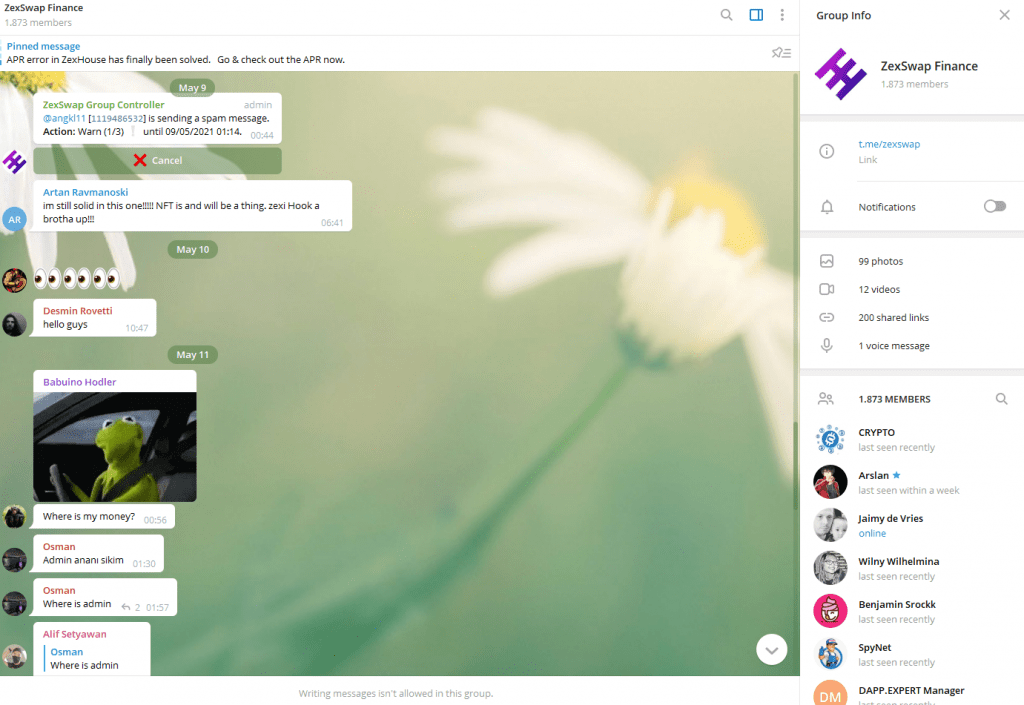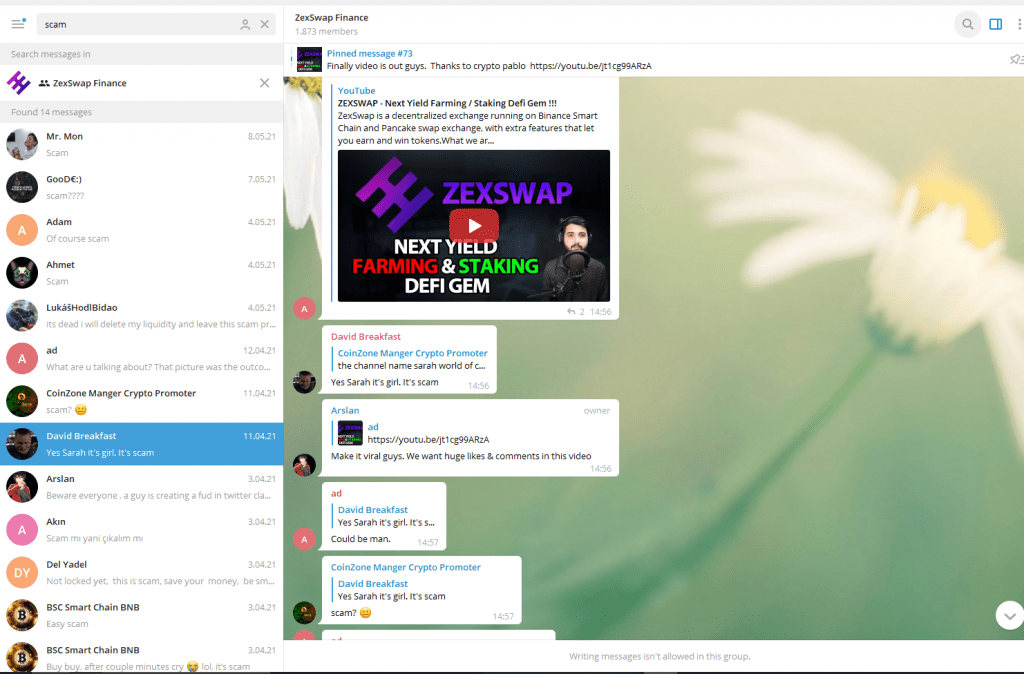 Even though we had previously written about Zexswap and thought they were doing well in the beginning. We have now come to the conclusion that it is time to report the fact that things are starting to look more suspicious.
Even though we do not make any final calls on whether a project is legit or a scam we did find it important to share this with the readers of BSCN.
Final thoughts:
Zexswap is a new swapping platform that began as a hard fork from Pancakeswap. Finance, a fast-developing trading platform. Zexswap has a similar vision but is working on features not yet present at Pancake Swap.
However, like with other cryptos, there is a risk, especially because it is so new. Irrespective of how successful things appear to be at the moment, the entire idea might fall apart or turn out to be a huge con. So, take a sensible decision accordingly.