YFUNI is a next-generation yearn-inspired platform that aims to revolutionize the De-Fi (Decentralized Finance) infrastructure.

YFUNI Finance aims to come up with multiple innovative solutions on BSC (Binance Smart Chain) such as crypto banking investment, lending aggregation, yield farming aggregation, etcetera. The platform is carefully designed in a way that allows people to access the most suitable yields available in the De-Fi market and YFUNI ecosystem.
Introduction of YFUNI
If you don't already know, one of the most successful De-Fi protocols on the Ethereum network was Yearn Finance protocol. This protocol operates as a part of the best crypto projects with the De-Fi ecosystem that progressed exponentially on the Ethereum blockchain network. Because of the fast transaction, cheap fares, and increasing adoption, Yearn Finance-like projects are gaining more and more popularity on Binance Smart Chain. With that said, using the most successful Yean products YFUNI aims to help the growing users of the NSC network.

The team behind YFUNI plans to provide users with more innovative financial products by utilizing the Ethereum blockchain first Yearn Finance features. There are also plans to come up with an advanced banking system with multi-level interest generation and a decentralized saving protocol on the De-Fi ecosystem.

YFUNI guarantees security, safety, equity, and equality to all of its users in the digital currency assets' staking. Moreover, it aims to provide people with an enhanced and seamless user experience with its simple yet effective De-Fi smart platform.
Benefits of YFUNI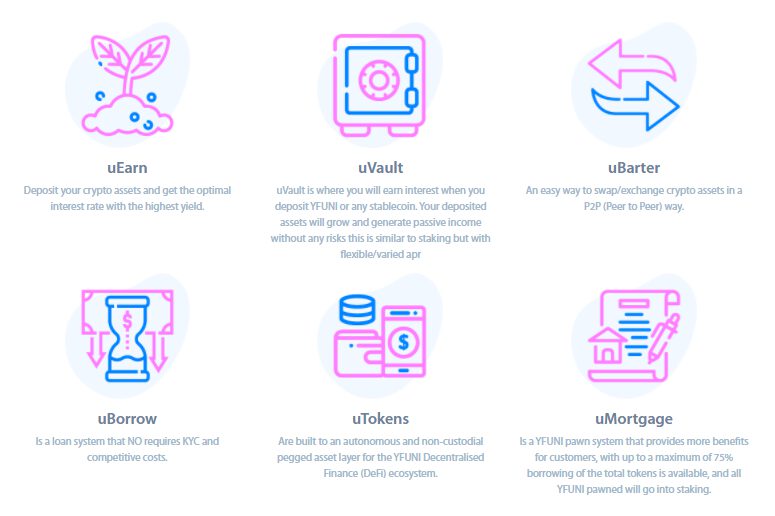 Source: YFUNI Official
Partnerships of YFUNI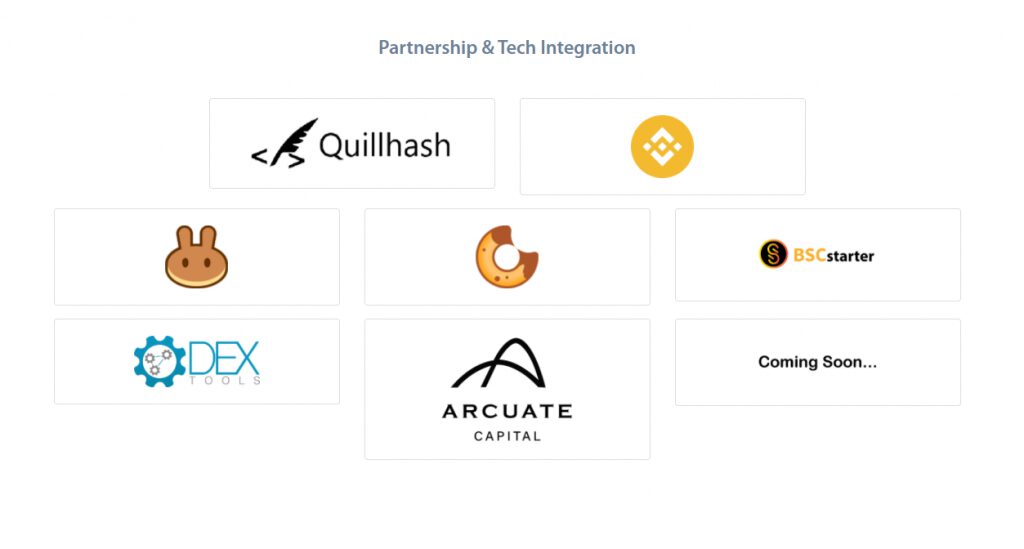 Source: YFUNI Official
It's important to keep in mind that YFUNI is comparatively a new platform. The development team behind this platform plans to add more features such as insurance, Swap, NFTs etcetera. But the fact of the matter is that it has already entered into many strategic partnerships that will strengthen the whole network. In order to empower its vision, YFUNI has partnered up with Accurate Capital that will assist the YFUNI ecosystem with community growth and advisory. Other than that, it will also help the platform to gain access to the industry resources and network. Here are some other important partnerships that will greatly help the platform.
LID Protocol
Automated ILO Platform
Dex Tools
BSCstarter
Quillhash
Roadmap of YFUNI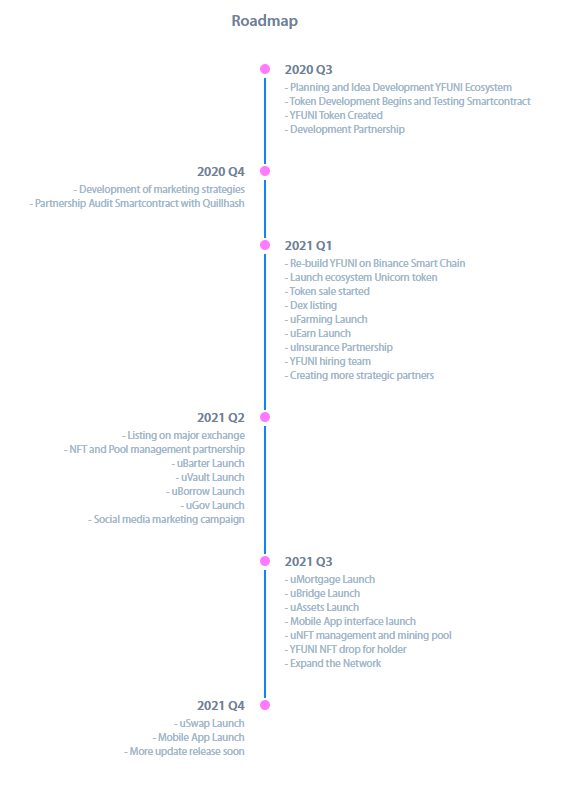 Source: YFUNI Official
As mentioned, YFUNI has an extensive plan to improve the platform by coming up with innovative and useful features. Here is the platform's roadmap that explains its potential.
2020 Q3
Planning and development of basic YFUNI ecosystem's concept
Token development and smartcontract testing
Creation of Token
Development partnership
2020 Q4
Creating comprehensive marketing strategies
Partnership with Quillhash for Smartcontrat audit
2021 Q1
Rebuilding YFUNI on BSC (Binance Smart Chain)
Launching Unicorn token ecosystem
Starting Token Sale
Dex listing
Launching uFarming
Launching uEarn
Partnership with uInsurance
Hiring team for YFUNI
Planning to have more strategic partnerships
2021 Q2
Getting listed on major exchanges
Partnership with NFT and pool management
Launching uBarter
Launching uVault
Launching uBorrow
Launching uGov
Starting marketing campaign for social media
2021 Q3
Launching uMortgage
Launching uBridge
Launching uAssets
Launching the interface for mobile app
Mining pool and uNFT management
Expanding the whole network
YFUNI NFT drop for the holder
2021 Q4
Launching uSwap
Launching a fully functional mobile app
Planning and releasing more updates to strengthen the network
Tokenomics of YFUNI
The main goal of YFUNI is to become the next YEARN on the Binance Smart Chain network. The Token is distributed with no VC interest and no pre-mine. The platform offers a simple and efficient staking distribution opportunity to all the users in order to improve its community by aligning and broadening its vision. Here's the YFUNI Token profile with all the important information that you need to know.
Allocation of Token
The total supply of YFUNI is 100,000 YFUNI and its distribution is as following:
Ecosystem Fund: 95,000 YFUNI – 95 percent
It will be provided to the users through staking, farming, or by incentivizing on the YFUNI network.
General Reserve: 3,000 YFUNI – 3 percent
It will be used for the news features and upgrades listed on the roadmap
Marketing Fund: 2,000 YFUNI – 2 percent
The funds reserved for marketing purposes will be used to spread awareness, exchange listing, and partnerships. 5 percent of the total marketing fund will be used for TGE and 5 percent will be consumed each month.
Liquidity Fund: 1,000 YFUNI – 1 percent
The liquidity funds are reserved for DEX YFUNI – BNB.
Team Funds: 0 YFUNI – 0 percent
YFUNI team has not reserved anything for itself.
Source: BSCDaily.com