Today's world is afflicted by environmental concerns such as Pollution, climate change, and depletion of the ozone layer, which are now trending. The globe is seeing enormous ecological change as a result of all of these concerns.
The importance of reforestation as a natural climate remedy is universally acknowledged. From an environmental standpoint, we're only beginning to comprehend the cost of living without trees. Our trees can capture up to four times the amount of carbon per acre as tropical rainforests. The best way to solve these problems is to plant more trees. SafeSwap Online has taken the initiative to do just that in numerous locations, returning to nature what we owe it.
Forests are the only natural industry that produces oxygen. According to international standards, forest areas should make up at least 25% of the total land area populated by humans. The trees that were purchased by SafeSwap online in communication with their partners interest us. The partners that collaborated with SafeSwap Online were MEDA Coin, Dynamic Crypto Trading, BEFX, Vacay, BPRCY, and many more. SafeSwap Online has now partnered with Ecologi. Along with our environmental partner Ecologi, we are purchasing trees, which are then planted by Ecologi team members worldwide.
Continue reading to learn more about this planting push and Ecologi partners who are supporting Safeswap online.
About Ecologi
Ecologi was created in Bristol, UK, by a group of environmentalists. They were dissatisfied because many of us were unable to contribute adequately to the massive climate crisis.
Our collaborative ecosystem is being flipped entirely upside down, causing conflict for nearly all life on the planet. We know it can be avoided. And we all know it won't save itself. As a result, it is up to us to find a solution. So Ecologi is here to help the environment by pulling up the levers. Ecologi is working to reduce our carbon footprint, but the pace of change is considerably slower than the amount of time we have left. The instruments we identify with combating climate change are insufficient. What if that changed, and the billions of people who cared were able to make a difference?
There are currently enough climate solutions available that, if we backed them, we could reverse 30 years of carbon harm by avoiding 1,500 billion tons of CO2. Hence Ecologi is bringing forward an initiative to plant trees with its partners.
About SafeSwap Online
SafeSwap TM is a trademark of SafeSwap, Inc. SWAP is a cryptocurrency based on the Binance Smart Chain (BEP20) technology that debuted in 2020.SafeSwap online has a current supply of 1,000,000 coins, with 0 in circulation. SafeSwap is a Smart Contract-based technology that connects directly with metamask, trust wallet, and other third-party wallets.
SafeSwap Online is a decentralized trading system that enables the exchange of several cryptocurrencies. SafeSwap Online is a safe, Smart Contract-based program that communicates directly with Metamask, Trust Wallet, and other decentralized wallets using web3 Dapp browsers. The concept is a dedicated trading (DeFi-based) DEX that instantly lets users connect with current liquidity pools.
Safeswap Online Collaborating With Ecologi
SafeSwap Online was founded by members of a family that has been active in the environmental business for several generations. We want to raise awareness worldwide, and we plan to accomplish it with the help of the Ecologi. We want to change globally by reforesting areas torn down by overpopulation and the other regions under the plantation drive.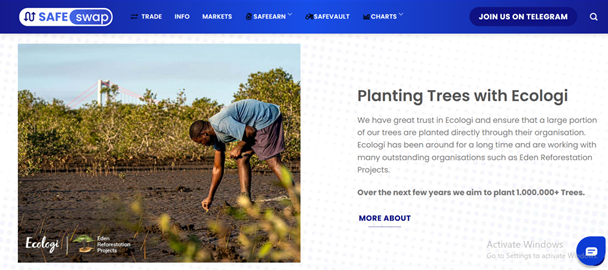 SafeSwap Online partnered with Ecologi to plant 5000+ trees and predicts to plant about 995,000+ trees in the future. SafeSwap Online aims to produce more than 1000 trees per month, and others are trees that their sponsors buy.
Both SafeSwap Online and Ecologi are working together to fulfill specific goals to make the ecosystem pollution-free.
1- Reduction of carbon emissions
We invest your money at Ecologi in a wide range of initiatives to demonstrate that they are lowering greenhouse gas emissions. Each month, SafeSwap online funds a variety of carbon reduction initiatives. Ecologi's financing approach is based on the Project Drawdown framework and is governed by our Climate Committee, and SafeSwap online supports these reforestation projects to reduce carbon emissions.
2- Planting of trees
Planting trees is now widely recognized as one of the most effective methods for combating the climate problem and preventing temperatures from increasing over 1.5 degrees Celsius. They're also essential for avoiding ecological disasters.
We work with Ecologic, an incredible tree-planting partner that can sustainably plant millions of trees every month on behalf of our community.
Plantation Drives By SafeSwap Online Via Ecologi
We have a lot of faith in Ecologi, and we make sure that a lot of our trees are planted directly via them. Ecologi has a lengthy history and collaborates with several notable organizations, including Eden Reforestation Projects. The following are some of the plantation drives initiated by SafeSwap online and its sponsors Via Ecologi:
Coastal mangrove restoration in Zambezia
The Irregele Milato planting site spans 756 hectares in Zambezia Province's Quelimane District, where locals rely on fishing, agriculture, and charcoal production for a living. The area that locals deforested to extract timber is now being reforested by Ecologi and SafeSwap online.
Coastal mangrove restoration in Marotaola
In the Quelimane District of Zambezia Province, the Irregele Milato planting site covers 756 hectares where the area was deforested, and now SafeSwap Online is planting trees Ecologi.