Are you planning to do an analysis using cryptos? Here is Live Coin watch APIs that give access to Bitcoin and others, including Safeswap online.
They cover many tasks, including examining wallet contents, market price tracking, and even making and receiving transactions. As a result, these APIs may be used in almost any project using cryptocurrency or blockchain. Hence Safeswap was listed along with others on live coin watch; from now on, you can analyze market cap, pricing, and other aspects from now on about Safeswap online.
Please continue reading to get more information about live coin watch and how Safeswap has benefitted from being listed on it!
What Is Live Coin Watch?
The world's first online tool for tracking Bitcoin prices in real-time. It helps to monitor your portfolio on your PC 24 hours a day, seven days a week, with live updates straight from the exchanges. Their goal was to build the finest online tool for bitcoin monitoring. The prices on the Live Coin Watch are updated every few seconds. Prices are taken straight from the exchanges.
The market capitalization is derived by multiplying its volume-weighted average price by its circulating supply, which ranks it. To be rated, a currency or token must be traded on two exchanges and three marketplaces. The volume-weighted average of worldwide market pairs sold on spot marketplaces is used to compute the price of a cryptocurrency.
Safe Swap Online And Live Coin Watch: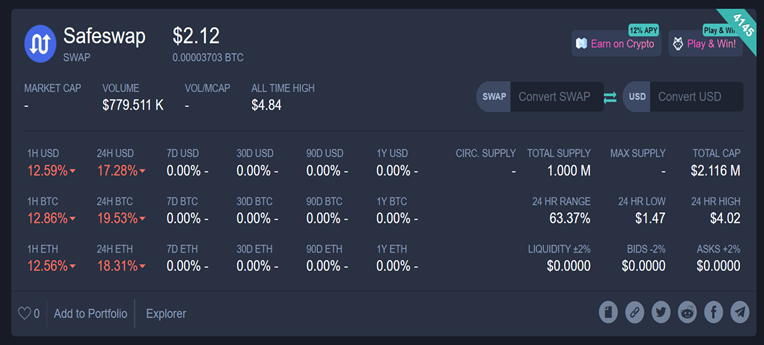 Live coins watch listed Safeswap online along with other new tokens on the list. It interprets the data for Safeswap online in the form of charts and databases to make a user-friendly interface for people. After being listed on live coin watch, Safeswap online is seen to grow, and the rates of tokens have increased considerably.
Safe swap (SWAP) is presently ranked #4146 in terms of market capitalization. It hit a high of $4.02 today and is currently trading at $2.11.The price of Safeswap (SWAP) has dropped 21.08 percent in the previous 24 hours. Safe swap is presently only traded on one exchange, with a 24-hour transaction volume of 783,629 dollars.