SafeMoon is the newest cryptocurrency in the market, and it has one of the coolest names. SafeMoon is particular crypto with its own set of benefits, unlike NFT, which effectively links artists with their patrons. The cryptocurrency, released in early March 2021 and is built on Binance Smart Chain, is a Decentralized Finance (DeFI) cryptocurrency. Many of those early SafeMoon investors hold on to their tokens now, hoping the crypto to increase in value!
Let's get to know both positive and negative connotations about SafeMoon!
Negative connotations!
The one-month-old cryptocurrency became a trending subject on Twitter on April 19. It seemed to appear out of nowhere. Investors don't appear to notice the token's obscure creation history; what they think about is that it has been increasing in value. What's the truth behind this token? What's behind crypto influencers calling it a scam?
Some have criticized SafeMoon because of the concept it offers and the lack of transparency surrounding the project. Lark Davis and War on Rugs, two crypto influencers, have repeatedly warned investors about the token's payout scheme and the lack of information about its liquidity pool. Davis says of SafeMoon, "Just because you make money off of a Ponzi doesn't change the fact that it's a Ponzi."
"I'm pretty convinced this is a pyramid scheme and that you will lose your money if you get in right now because this is a scam that is growing faster than everything I have ever seen before," Dutch YouTuber Quinten François said in a video posted on Wednesday.

"I know a lot of people will hate me for this, but I'm already five and a half years in crypto… I know what scams are and what are not."

François said he was one of the first in the crypto community to warn against Bitconnect. This cryptocurrency pyramid scheme surged in value during the last bull run in 2017 before eventually collapsing in January 2018.

Australian Facebook group Crypto Paradox, which has over 32,000 members, yesterday warned that anyone trying to promote Safemoon would be instantly banned as it was a scam.

Kiwi crypto influencer Lark Davis, who has over 200,000 followers on Twitter, issued his warning.

Alex Saunders says,

Most read Aussie news site promoting this #Safemoon scam. A project that pops up overnight promises profit penalizes sellers & guarantees safe passage to a celestial object. Yes I know your mate Dazza made 500%. That's how ponzis work initially.
Positive connotations!
SafeMoon has gone viral and is now one of Reddit's most popular subjects. That does not, however, make it a must-have for most buyers. Since it's a new type of cryptocurrency, investors can still expect to risk every cent they put in. SafeMoon still does not seem to be a terrible fraud.
The SafeMoon community is growing, and the developers are quite involved in the process. They hold Ask Me Anything (AMA) sessions three days a week and answer almost all of the questions and concerns. Furthermore, SafeMoon has performed admirably in the coin-burning department, having burned over a trillion coins in 24 hours. Finally, even though SafeMoon is just about 20 days old, it already has over 80000 holders. The greater the quantity, the more stable the currency is. It got 94% good reviews on the trust pilot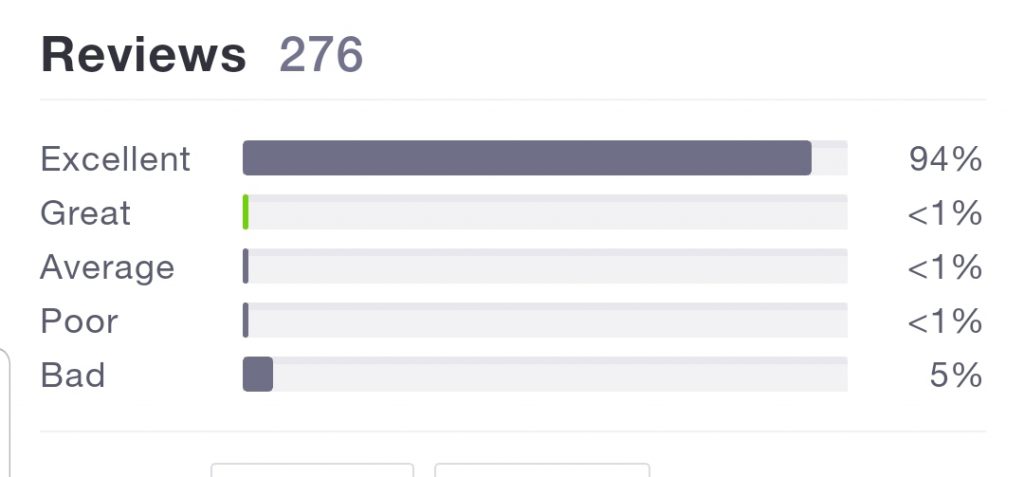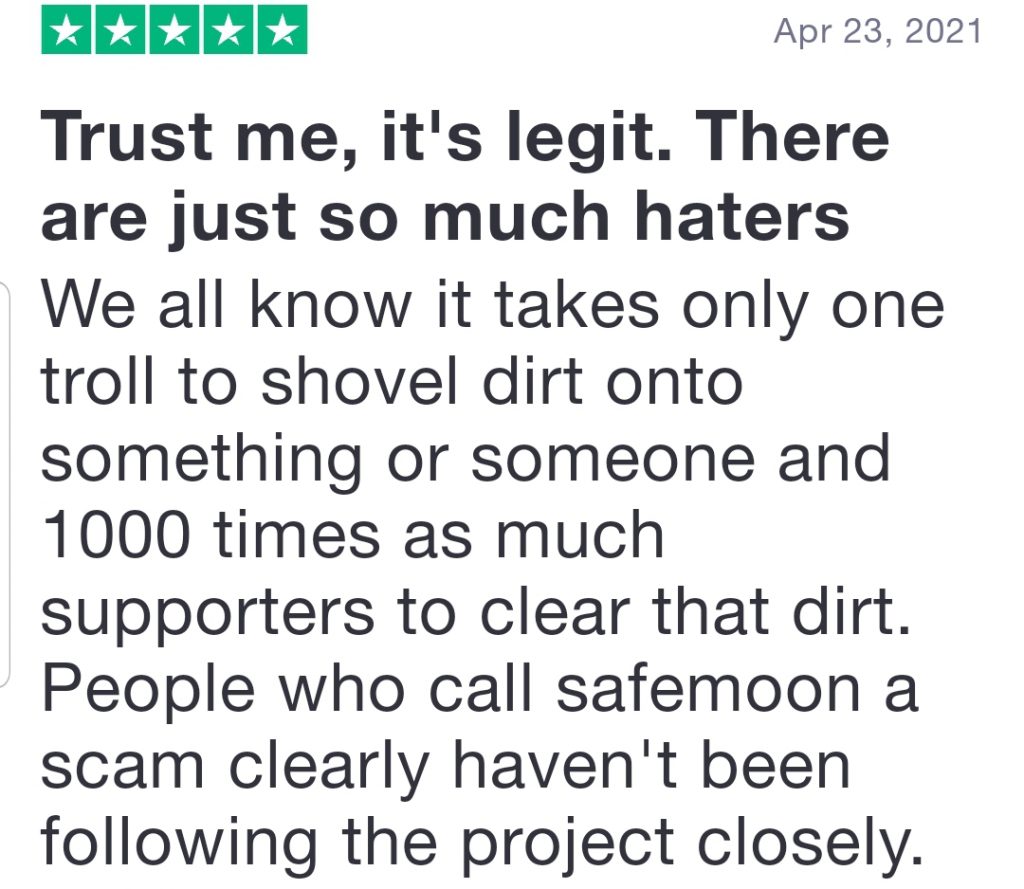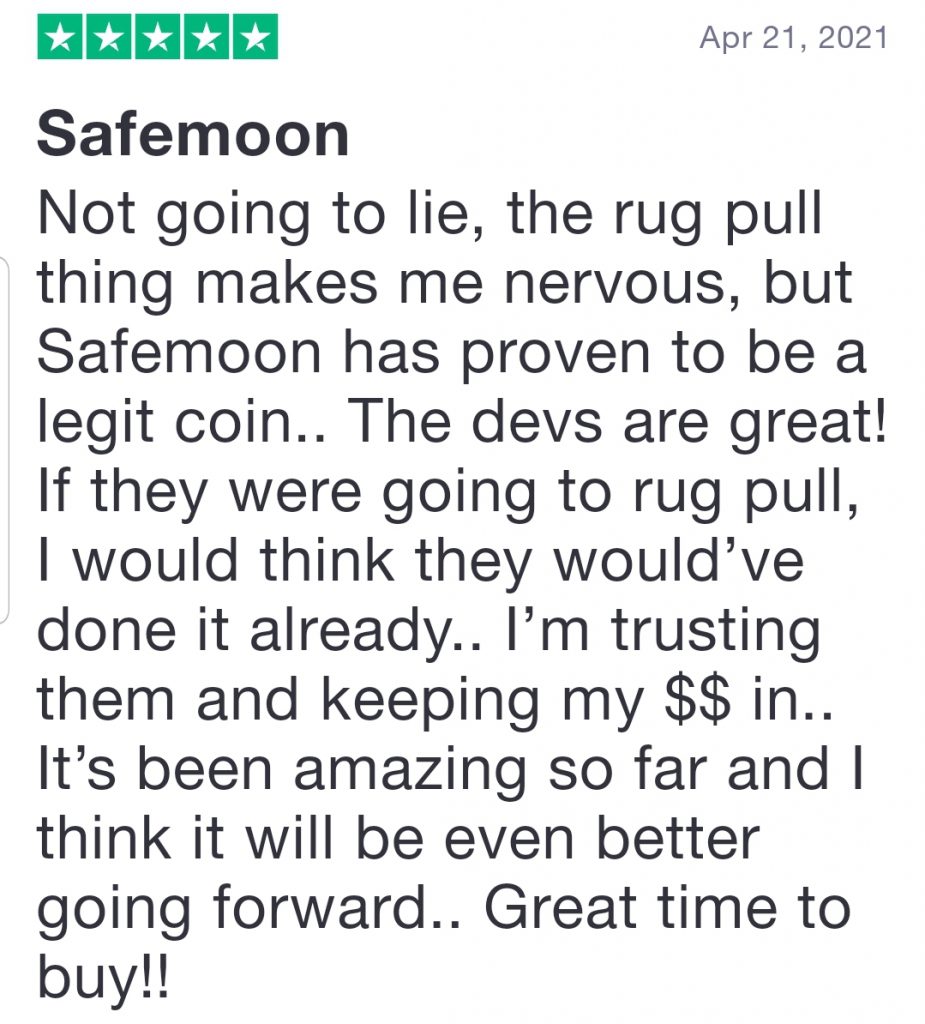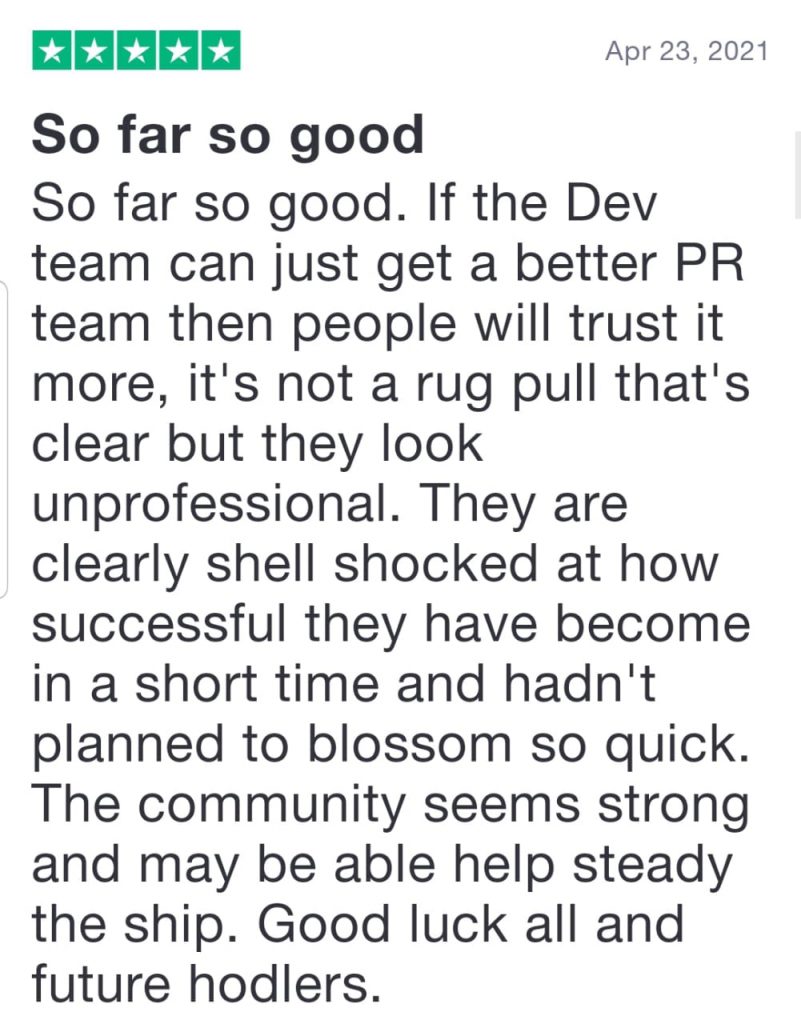 Additional topics about Safemoon
www.quora.com/Is-Safemoon-a-scam-or-legit

Chris Taylor, Indie Game Developer at Lou Bagel (2014-present)Answered March 23

SafeMoon: Legit or Scam?

I see people ask that a lot. Does it have to be one or the other?

It seems to be a legitimate token; a legit cryptocurrency.

Does that mean it isn't a scam still?

a form of fraud in which belief in the success of a nonexistent enterprise is fostered by the payment of quick returns to the first investors from money invested by later investors.

That is the definition of Ponzi Scheme, for reference. Basically, they are able to pay "profits" to the first investors by simply using the money that the next people invest. So everything looks good as long as people keep investing.

How SafeMoon works is 10% of every transaction is taken and distributed. 5% among every other holder of SafeMoon. The other 5% I'll get to later.
Full Quora Post by Chris Taylor
Is Safemoon the Biggest Crypto Scam of 2021 | Analyzed by an Accountant
Is this the Truth About SAFEMOON COIN or not?
Final thoughts
SafeMoon is still one of the most sought-after cryptos globally, earning it a lot of attention. The early signals are also promising, and you have a chance to increase your wealth greatly.
However, there is danger, as with all cryptos, particularly because it is so new. Regardless of how good things seem to be right now, the whole project could collapse or turn out to be a big scam. So make a decision wisely