NFT artists' creative appetite is set to relish a Bon Appétit. Courtesy of the world's fastest-growing deflationary, rug-proof, profit-sharing, passive yield and auto-liquidity OrigamiMoon $OGMN token. Bid adieu to impermanent loss with the duly Hash0x audited $OGMN token. With OrigamiMoon, next generation (problem-free) DeFi (decentralized finance) has become a reality.
What is OrigamiMoon?
Created by OrigamiLabs, OrigamiMoon is an exciting, gorgeous, new NFT Marketplace enabling the industry's best and brightest artists and creators the ability to easily mint and sell their creations. The platform also has a companion token, $OGMN, that in effect acts as a profit sharing mechanism, as the NFT Marketplace will use a percentage of platform profits to market-buy and burn $OGMN tokens, creating volume that benefits all holders because of its passive yield nature.

The NFT Marketplace is in its final stages of development, and should launch in the next week or two. The $OGMN token launched on August 25th on JetSwap Finance's IJO Launchpad, was a winner of the JetSwap $1m Incentive Program and can be traded by clicking here.

OrigamiMoon's NFT Marketplace is set to offer creators the ability to sell their creations with one of the industry's most favorable commission structures for artists, and makes minting, selling and buying NFTs as easy as clicking a couple buttons.www.youtube-nocookie.com/embed/7kmmfxtBmIs?iv_load_policy=3&modestbranding=1&rel=0&autohide=1&playsinline=0&autoplay=1
OrigamiMoon: Top 8 Exciting Features
1. Friction-Less Yield Generation:
On each buy/sell of the $OGMN token, 5% automatic distribution occurs for all token holders. Holders are not even required to stake or await fee delivery. The smart contract awards automatically reflecting fees in the holders' balance, or in their LP's. Their have figured out how to enable those who stake their OGMN/BNB LP tokens to also earn the regular passive-yield rewards, ultimately meaning those who stake in the JetSwap LP pool earn triple rewards (passive-yield, WINGS farm rewards, and JetSwap trading fees).
2. Automatic Liquidity Generation:
$OGMN liquidity pool permanently receives automatic re-distribution of 5% on every $OGMN buy/sell transaction. $OGMN's decentralization feature allows anyone to introduce a new $OGMN liquidity pair, thereby boosting overall liquidity. There's currently over $150k in OGMN/BNB liquidity just a few days after launch.
3. NFT Marketplace
The OrigamiMoon NFT Marketplace is set to go live immediately following the official launch. The Marketplace enables artists the ability to mint and sell (auction or fixed price) their NFTs. Accessing the NFT platform creators would be able to showcase and profit from their creative talent. Any NFT collector can buy or sell the NFT on the platform. Exclusive (limited edition) OrigamiMoon NFTs will be released and promotional giveaways will be organized. Strategic partnerships are being envisioned with NFT artists and platforms, offering rare, unique and valuable assets for trade.

Shortly after launch, the Marketplace will undergo an update to allow anyone to mint and sell their own creations! The platform will charge a very small commission, and then use profits from the platform to buy-back $OGMN tokens and will then immediately burn them all.
4. Progressive Deflationary Black Hole
The $OGMN token's healthy supply maintenance is taken care of via an auto-compounding deflationary mechanism they call their "Black Hole". At launch, 50 trillion $OGMN tokens were sent to their inaccessible burn address destination. This destination would still continue receiving passive yield rewards. As a result, the amount of tokens burned daily would also grow massively.
5. $1M JetSwap Incentive Program
Winner of the $1M JetSwap Incentive Program, OrigamiMoon is duly vetted and selected by the JetSwap Finance team. The $OGMN token automatically receives a 2x multiplier high APR WINGS farm to promote the $OGMN-BNB liquidity. Earning $OGMN will be possible for WINGS holders via a 2-month pool. The farm is currently the highest APR on all of JetSwap.
6. Arbitrage Immunity
Bot-led arbitrage trading affects and consumes project liquidity by exploiting the advantages of price variations. That's why OrigamiMoon is thoughtfully kept safe from such attacks since $OGMN tokens' profitable arbitrage isn't that easy. To ensure enough profit, a price difference of over 20% between exchanges is a must.
7. Hardware Wallet / Cold Storage Staking
Via OrigamiMoon's passive yield generation, users can earn rewards whilst storing their tokens on hardware wallets (or in cold storage). After its launch, $OGMN would allow staking to earn additional rewards (or partner tokens).
8. Double Yield
While DeFi applications, so far, required users to stake their tokens for earning rewards, that is not the case for $OGMN investors. Using their $OGMN tokens in any third-party dApp (yield farms, lending etc.) can also earn the normal OrigamiMoon passive yield rewards.
Partnerships
The OrigamiLabs team is prioritizing using its partnerships with well respected and established organizations to help grow the platform. Expect many more to be announced in the following weeks/months.
$OGMN Tokenomics
Price is a function of supply/demand, and the supply side economics have been well thought out. The team started off their "Black Hole" with 50 trillion $OGMN tokens sent to it, and after its first 24 hours the "Black Hole" had already gobbled up 800 billion $OGMN tokens all on its own. The team has also committed to burning tens of trillions more and has since sent about 20 trillion $OGMN tokens manually to their burn address. So far the total amount burnt? 66 trillion.

On every buy/sell of the $OGMN token, a 10% transaction fee is assessed. Half of that tax is then automatically redistributed to all other wallet holders. This feature incentivizes HODLing the $OGMN tokens, whilst making arbitrage bots practically uneconomical. The other half of the 10% transaction fee is used to automatically buy $BNB and then with the $BNB and $OGMN tokens, sent to the JetSwap $OGMN/$BNB liquidity pool. The system is working flawlessly, as it already has over $150k in OGMN/BNB liquidity.

This approach reduces volatility, whilst maintaining a non-manipulative environment. Even while safely keeping their $OGMN tokens in their own secured wallets, users automatically earn staking rewards. A token Blacklist is implemented in the $OGMN smart contracts to block exchange wallets or DEX pools addresses from earning rewards. The aim is to ensure 100% of the tax revenue gets distributed to genuine $OGMN token holders only.
$OGMN: Developmental Roadmap
Currently in its 1st phase (Q3 2021), and nearly already complete, OrigamiMoon applied for CoinGecko, CoinMarketCap, and Blockfolio listings. OrigamiMoon NFT platform launch is also underway along with strategic partnerships and token buybacks, plus they have already burnt 66 trillion $OGMN tokens.

In its 2nd phase (Q4 2021), launching of OrigamiMoon NFT Marketplace v2 with Token & NFT trading is planned. Launching OrigamiMoon yield farms, marketing activities, strategic partnerships shall take place with scheduled token buyback and burns.

In its 3rd phase (Q1 2022), OrigamiLabs gamification and incubator will be launched. Token buyback and burns would happen with continued marketing activities.
OrigamiMoon Links
Source : bsctimes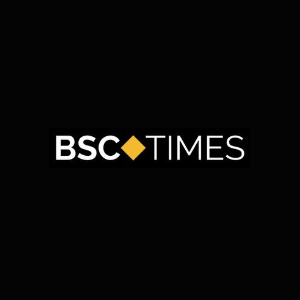 BSC TIMES is a private news network. All posts posted by this user belong 100% to bsctimes.com. All rights are reserved to BSC TIMES for more information about BSC TIMES contact BSC TIMES here.