Zeedex on BSC is a Gasless, non-custodial decentralized platform that offers limited orders and CEX like experience on DEX.
Introduction – Gasless, Limit Orders, UI like a CEX, NonCustodial
Zeedex is a decentralized cryptocurrency exchange built on BSC (Binance Smart Chain). It offers a sustainable and suitable environment and allows users to trade cryptocurrencies. The platform aims to become a De-Fi (Decentralized Finance) hub in the industry. It'll empower the users to take part in the financial market actively without worrying about the security and safety of their assets. The development team behind Zeedex plans to support multiple crypto projects and partnering up with them to launch staking.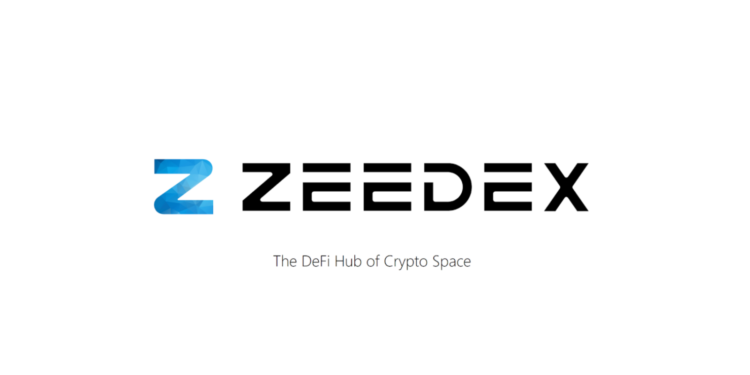 The best and unique thing about this platform is that everything takes place on-chain (apart from match-making). In simple words, it means that there is no withdrawal or deposit of funds. Additionally, the platform offers the experience of CEX (Centralized Exchange) on a DEX (Decentralized Exchange). That's because it offers applications for both mobile and desktop with an easy, user-friendly, and responsive user interface.

The reason why Zeedex chose BSC (Binance Smart Chain) is that it offers low transaction fees and high security for the users. Moreover, BSC is also a high-performance and scalable network that comes with a faster speed and it can create one new block after every three seconds. Some of the best features that users can use with the launch of Zeedex BSC v0.2.7 are limit orders, CEX experience on DEX, NonCustodial, Gasless etcetera.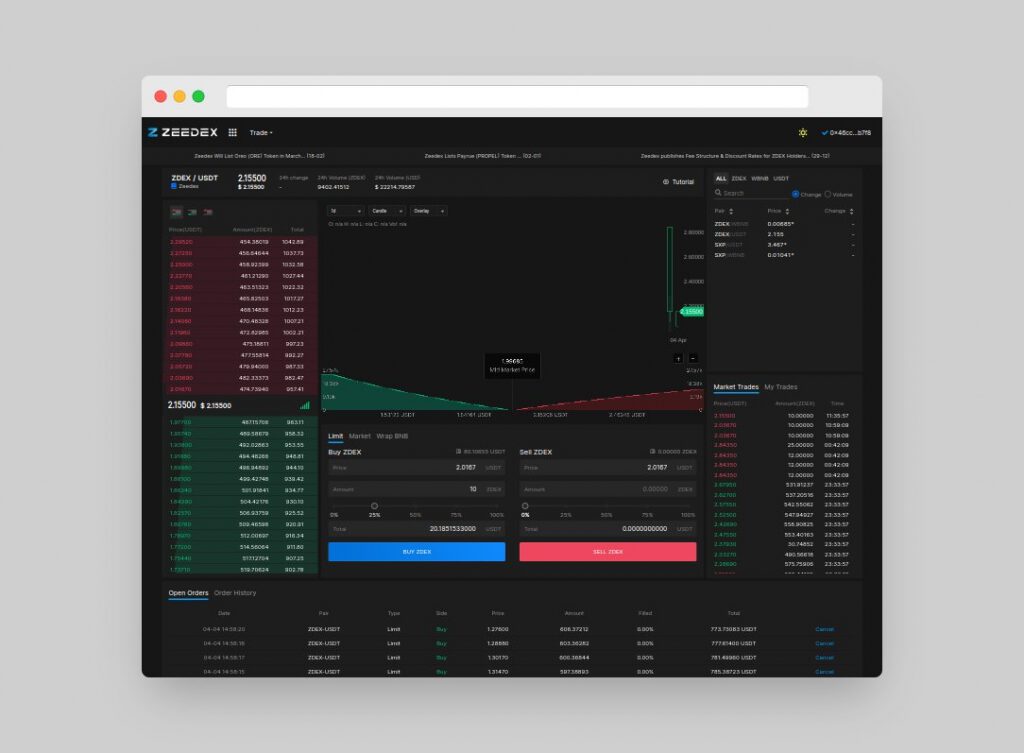 Project Public Roadmap
Every feature that we have incorporated in our roadmap is chosen very carefully after comprehensive research and analysis of the market. We have also taken into account the opinions of the community to make sure our platform continues to serve the users in the best possible way.
Q3 – 2020
Exchange release on Mainnet
Q4 – 2020
Zeedex Staking Platform
Instant Swap Platform
Expansion of Zeedex Ecosystem
Fully Functional Mobile App
Q1 – 2021
Starting the Trading Competition
Q2 – 2021
Releasing the De-Fi (Decentralized Finance) Protocol (Onboarding other projects to launch their token staking and lending system)
Q3 – 2021
Integration with Tron Chain
Development of Futures Trading
Q1 – 2022
Releasing Fully Functional Futures Trading
Initializing the Development of Margin Trading
Q3 – 2022
Releasing Fully Functional Margin Trading
Features that we have achieved so far
Whitepaper Version 1
Launch of DEX Testnet (Zeedex ETH Testnet)
Presale: 1 ETH = 4000 ZDEX, 1 ZDEX = 0.087 USD
Swap ZDEX v1 to v2
ZDEX Token Lock
ZDEX Introduction
Mainnet Launch – ETH
Crypto Price Index Listing such as CoinMarketCap, Coingecko
ZDEX Bridge to Swap Your ZDEX to ZDEXb and vice-versa
Successful Mainnet Launch – BSC
ZDEX Public API Launch
ZDEX BSC upgrade to v0.0.77
Features that are currently in Progress
Bug Fixing on ZDEX BSC
ZeeSwap: Fork of Uniswap for experimentation
Searching for more EVM compatible chains
Features to be developed in the near future
Whitepaper Version 2
Market Orders
Market Maker Version 2
TradingView Integration
Developing and Launching Zeedex.info
Dedicated Zeedex Staking Platform
Zeedex Launchpad
Development on More Chains
Fully Functional and Responsive Zeedex Mobile App
Zeedex/Swap Liquidity Program
Ledger Listing
Extras
AMAs
More Partnerships
Mentions on other online platforms
Sponsorships and Ads
Tokenomics
The team behind Zeedex plans to host trading events regularly and incentivize the users who participate. Moreover, there are also plans to offer tools especially to the developers of tokens that will be listed on the Zeedex exchange. The tools that the platform plans to offer will help the developer to launch their own trading competitions.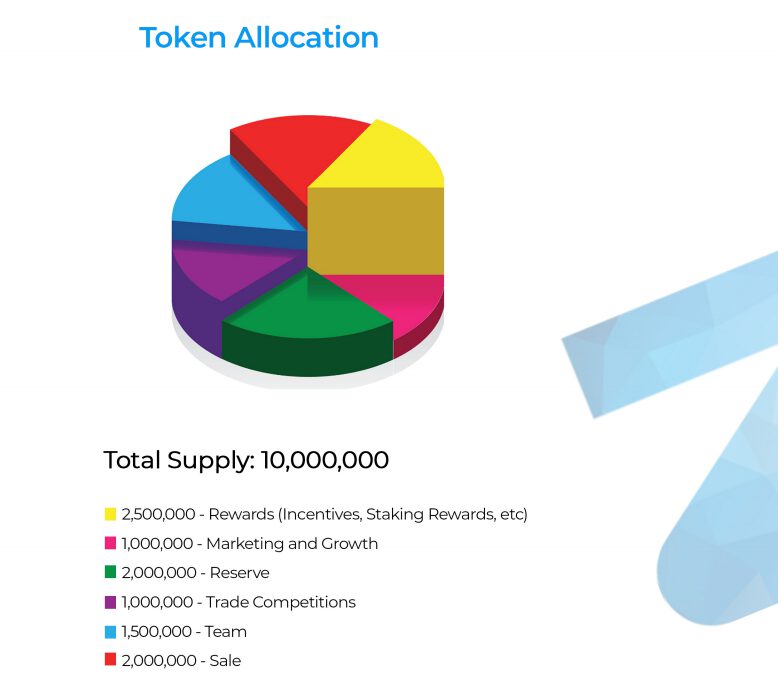 Tokenomics Profile
Here's the general information about Zeedex Tokenomics that you need to know.
Token: Zeedex
Ticker: ZDEXb
Decimal: 18
Contract Address: 0xa8b474f3cb2261258931ccfb3ef89865c96dee38
Token Allocation
The total supply of Zeedex is 10,000,000 ZDEX and its allocation is as follows.
Rewards
Supply: 2,500,000 ZDEX
Usage: It includes staking rewards and incentives
Marketing
Supply: 1,000,000
Usage: It will be used on the marketing for the growth of the network
Reserve
Trade Competition
Supply: 1,000,000
Usage: It will be used for the trade competitions taking place on the Zeedex network
Team
Supply: 1,500,000
Usage: it will be used to support the team behind Zeedex
Mechanism: The team reserved will be locked for on a vesting schedule of four years and 25 percent will release per year.
Sale
Zeedex Partnership
Zeedex has already made some noticeable partnerships such as:
Ankr
Chainstack
Fera Strategies
Such partnerships will allow the Zeedex network to simplify the interactions between the decentralized world and the users. The partnership with Ankr was one of the most noticeable milestones of Zeedex because it allows the users a low latency decentralized finance trading experience.

Ankr is a marketplace and a platform that is known as one of the best ones for web3-stack development. It's a blockchain solution based on sharing economy concepts. In simple words, it means that everything on this platform is based on helping each other and sharing resources. It allows almost all the users to use their resources (that are not being used) to become a blockchain node. The best thing about this platform is that it allows even non-technical users to operate blockchain nodes seamlessly.

Otherwise, this process can easily take up to several hours to set up. Not only will this partnership help the users to have a way better experience but it will also make the Zeedex cryptocurrency exchange even more decentralized.
Source: BSCDaily.com