Out with the old, in with the new. DEX limit orders are the future, and they can be found right here on the Binance Smart Chain (BSC).
JustLiquidity and DEX Limit Orders
JustLiquidity, the cross-chain decentralized finance (De-Fi) project, which uses their JUL (ERC-20) and JULb (BEP-20) tokens, now offers the possibility to place limit orders on their automated market maker (AMM). SwapLiquidity, the AMM will get the best price, choosing from PancakeSwap or SwapLiquidity to execute orders. The limit orders behave the same as in traditional markets and complete the order when the desired limit price is reached. For this to work, the trading pairs must exist on both exchanges. The fees for trading with limit orders are 0.03 BNB for any transaction, which is not expensive.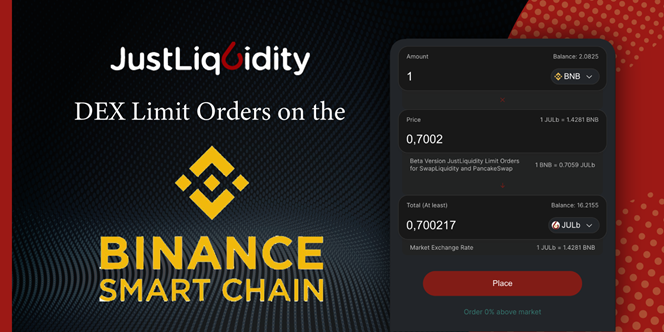 Trading on a DEX can be frustrating, waiting for the right entry price or the best selling price. When using limit orders, you can set the amount for the coin you want to buy and the price you specify. This is very advantageous to all users, as you will leave your emotions out of play and reduce screen time. Limit orders provide peace of mind, knowing that you didn't miss that good entry or excellent selling price. Be advised that the protocol is still in the beta phase.

Just Liquidity has just made trading on the BSC that much easier.
Source : bsc.news