Shibe Inu ($SHIB) emerges just when you think the bizarre side of cryptocurrencies can't get any weirder. Although Bitcoin, Ethereum, and a few other cryptocurrencies have a reasonable use case, the meme-worthy nonsense around crypto's altcoins is hitting epic new heights.
According to their website, Shiba Inu coins are cryptocurrency meme tokens that enable users to hold trillions of them. ShibaSwap, the company's decentralized exchange, lists and incentivizes these tokens. According to its website, Uniswap has been given 50% of the total stock. In contrast, the rest has been burned to Ethereum creator Vitalik Buterin.
The new SHIB token has blatantly co-opted the Shiba Inu dog breed name, whose logo has been synonymous with the prank cryptocurrency dogecoin. SHIB has recently gained new listings on Binance, Huobi, and OKEx, the three most prevalent cryptocurrency exchanges among Chinese users. And this puppy is suddenly attracting massive investment from Chinese traders, even though they seem to be well aware of the project's lack of real technical potential. When Binance began trading in the SHIB token on Monday, it nearly doubled in value on Huobi, where it was already trading.
Reviews in favor of SHIBA INU
The Shiba Inu coin was released in August, with a strategic game plan in place right from the start. It was built on the Ethereum blockchain, and half of the tokens were given to Vitalik Buterin, the founder of Ethereum. That's no small feat, given Shiba Inu's staggeringly large circulating pool of one quadrillion tokens!
Shiba Inu (SHIB), a DOGE-inspired token, is up about 500 percent this week. However, it has no underlying commodity other than a highly hyped-up audience and high purchasing volume.
SHIBA INU (SHIB), a meme coin, has soared over 760% so far on a seven-day trailing basis — emerging as the cryptocurrency with the highest gains in the period, according to CoinMarketCap data.

What Happened: SHIB has skyrocketed 768.91% in seven days and was trading 1.01% over 24 hours higher at $0.00001525 at press time on Sunday night.
According to Charles Xue Biqun or Xue Manzi, a billionaire venture capitalist and one of the most active investors in the Chinese internet industry has mentioned SHIB in multiple posts on Weibo to his more than 11 million followers. He has also been actively talking about dogecoin, according to his Weibo feed.

"Doge No. 2 hits new all-time highs, almighty," he wrote in a Weibo post dated May 8, with screenshots of SHIB/USDT and DOGE/USTD pairs on crypto exchange Huobi.

"Doge has already gone up a lot," Alex Zuo, vice president of China-based crypto wallet Cobo, said. "It gives an example of the 'wealth-making effect.' Plus that Shiba inu coin may also benefit from the localization…. With all the promotions by influencers on Weibo."

"We find it very inexplicable," Zuo said. "I didn't buy any SHIB and no one around me has bought any."
The value of dogecoin has surged thanks to celebrity backing, while a bunch of Reddit threads also called for it to hit a value of $US1 per coin.

The Shiba token website said: "Nicknamed the dogecoin killer, this erc-20 only token can remain well under a penny and still outpace Dogecoin in a small amount of time (relatively speaking)."
Reviews against SHIBA INU
It's uncertain if Shiba inu is real. There is very little information available about it, which may put your money at risk. The riskiest cryptocurrencies are the newer ones since it's difficult to know whether they're genuine. This means you're more likely to fall victim to a scam.
Some claim that SHIBA INU is a Scam Token, in which the owners must hold funds in their own token and falsely inflate the amount. It's a spam, so get out while you still can!
Shiba Inu token SCAM – WARNING!!

I really feel for a lot of people within the community of Shiba. People who actually look at the transfers (pump/dump) and why the shib token is being as low as it is and will be as low as it is, could see and notice there is a pattern of always the same people who dump and sell their coins (avg 5 to 6 Eth). There isn't enough volume on Shib right now to overcome a negative spiral when they sell it, meaning the candles will be red and going down very quickly and after a few minutes the same people who sold their assets will buy them back when the price is on its lowest and bide their time until you guys keep on buying. This keeps going and going and going. Buyers are being played by a few guys in there and nobody wants to see it hoping for big pumps. People from Shib itself play a big role in this. They try to keep investors interested with the so-called Shiba app that's coming, but I have a cut feeling it won't ever show.

I" m in the crypto space for some years now, and this of course, not the first time this happens to a weak token with many many people in its community. Sure they can decide what to do with their "lower value than you bought it" token..but I just feel for the early investors. They lost or will lose all their money. So a shout out to all new potential investors. Do not invest.

I tried to tell them but there are a few guys within the community who will directly start screaming and throwing meme's around just for the community members to be blind to see (messages get lost in the crowd) and can't read what's truly happening with Shib. This coin will never ever reach or has the potential to reach 0.0000001. Hell, there isn't even a whitepaper that will show you where Shib is going and what its utility is meant to be.

Alarm bells should be ringing guys. This message got deleted in 10 secs within the community because there are bigger things at stake there. When it comes to money, there are no such things as friends. Some people within the community did throw meme's directly after this message so you guys can't or will miss reading this.

For the people who want to invest in Shib… don't…..just have a look at dextools or etherscan and look who is buying and selling for 5-6 of ETH..look at their address. make up your own mind. People are being played, and yes that's pretty standard within the crypto space…but there are a lot of good people too.
Shib Army, A website made to expose the Shiba coin.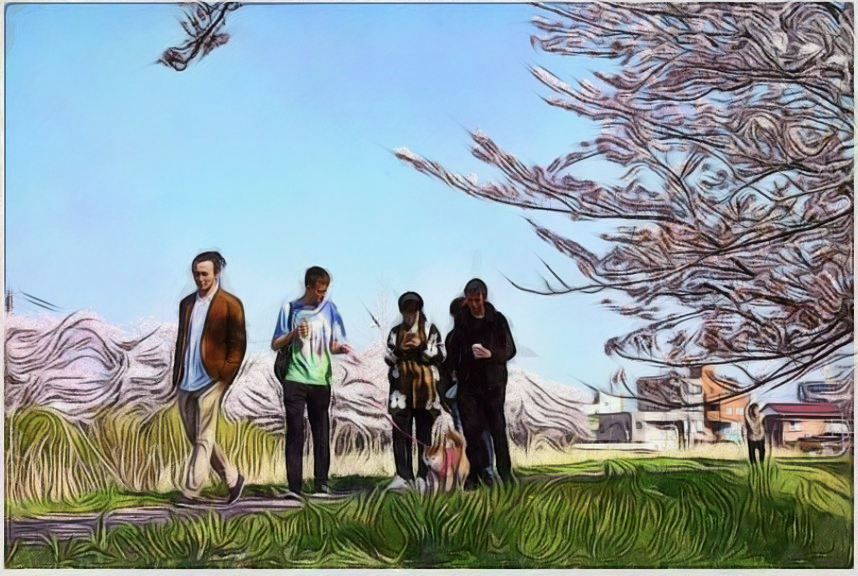 Into the above picture we can see Vitalik and his brother and some other Japanese friends of them. "Ryoshi" the nickname claim in his article something like Vitalik is some "fren" of him, and helped him to build the contract of shib, which clear is a lie.

That image was copied from this article: ヴィタリック・ブテリン氏ってご存知ですか? : かぼすちゃんとおさんぽ。 Powered by ライブドアブログ (blog.jp)

So clearly this project started with a lie, a lie which hyped a lot of us.

Chapter 2

The so-called "Ryoshi" the deployer said many times he doesn't have nor own any shib tokens but that clearly is another lie. They own a lot of tokens including the 2nd wallet from the holder's list. Since we are not here to write some bullshit about this problem, let's take a look at some wallets.

VITALIK BUTERIN WALLET

2nd HOLDER FROM THE LIST
etherscan.io/token/0x95ad61b0a150d79219dcf64e1e6cc01f0b64c4ce?a=0x1406899696adb2fa7a95ea68e80d4f9c82fcdedd
etherscan.io/token/0x95ad61b0a150d79219dcf64e1e6cc01f0b64c4ce?a=0xab5801a7d398351b8be11c439e05c5b3259aec9b
So from what we see on those screenshots we clearly see 2nd wallet bought the first tokens almost in the same data period of time when they deployed the 55% into VB wallet, so let's say 2nd wallet is legit but how in this world he could know about this token if is not someone from inside of this project? Take it logically. In another way, if he was some time travel reptilian and found out about this token before anyone else, at the ATH that wallet had a value of 15 Million Dollars, why he hasn't dumped? Cause yes if they have dumped from that wallet the Ponzi has been so obviously from that day. The 2nd wallet made 0 moves till:

6 days ago they started to test something directly on the Mainnet, I think they asked about pairs and stuff on both channels, on discord and on telegram, so they needed tokens to can test it.

Now, lets take a look on other smaller wallets, let's use a bit the Etherscan in a proper way:
So those wallets from above got buy-in after like 1 hour from the first VB burn? Weird right? Those are some other time travel reptilians right there?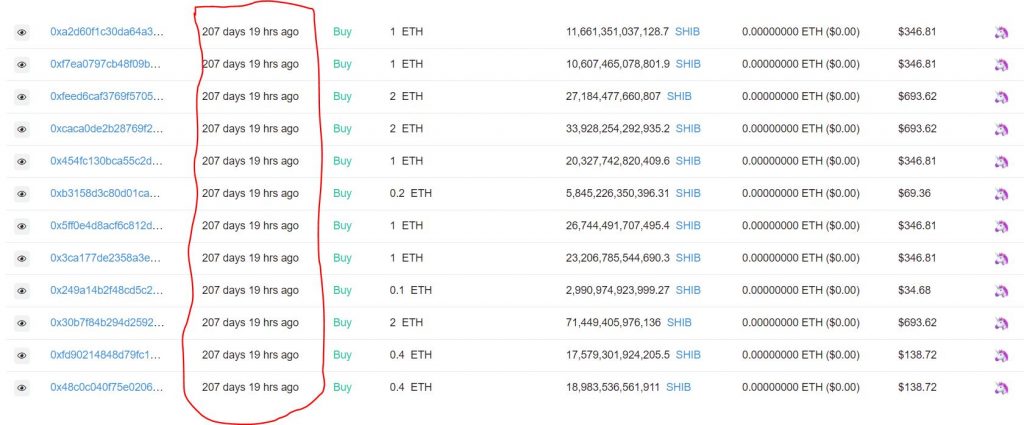 Oh, there is more? Other time travel reptilians?

If you just use 4 active neurons you can clearly see the fact that those "devs" filled the bags with tokens before anyone else find out about shib.

Here you can check all those wallets: etherscan.io/defi?q=0x95ad61b0a150d79219dcf64e1e6cc01f0b64c4ce#dextracker if you are not redirected to the last page of the list scroll down and go to the last page.

So, what we know so far? They clearly eat shit when they state the fact that they don't own any token, deployer said that not me, so we know they lie a lot.

Chapter 3

The first pump. There was the first pump right after they filled those bags, was a short one, I think the volume was in that day something like 3 millions dollars, and I think that was the so-called experiment to can test the waters.

Here you have the first pump before starting: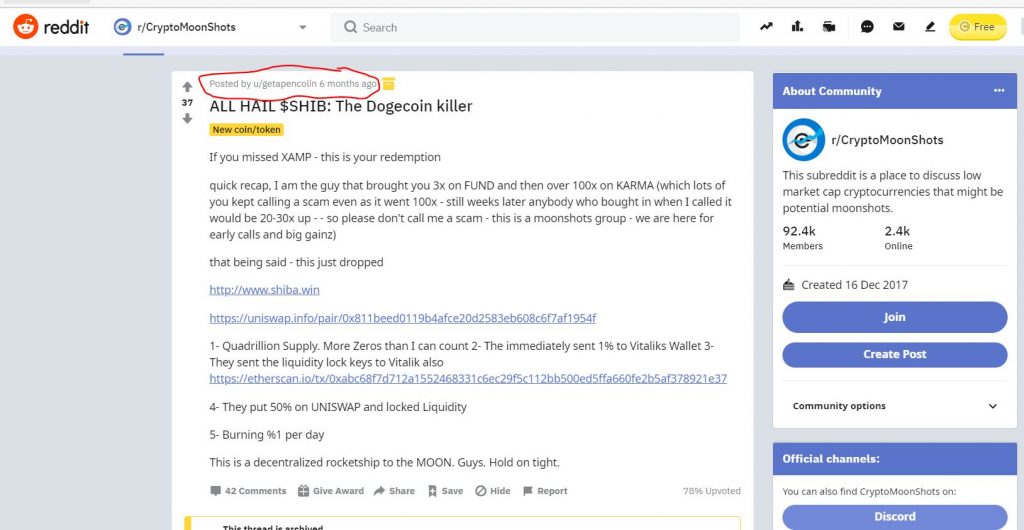 Here is the link to that reddit post: www.reddit.com/r/CryptoMoonShots/comments/i1h2vq/all_hail_shib_the_dogecoin_killer/

Now lets talk about the big pump and ATH of shib: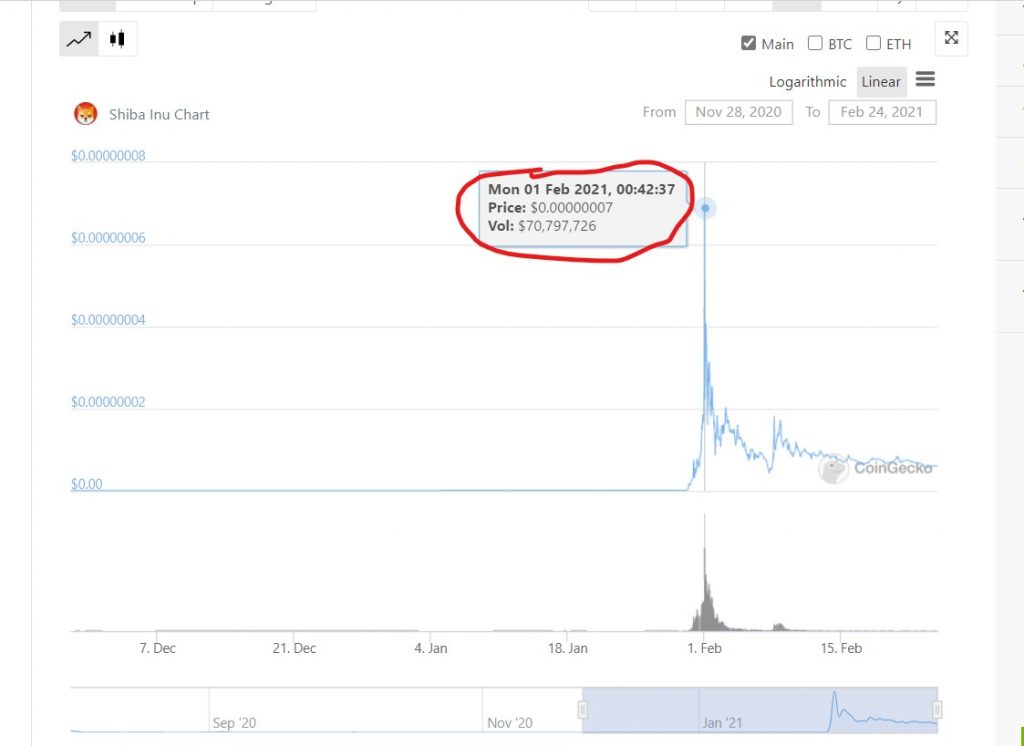 So coingecko registered 70 million volume in that day, but I think was almost 90 million on that particular day, so all of those time travel reptilians dumped hard in this day and made shit loads of cash with token bought before anyone knew about shib.

After the big dump, the volume started to dance from 5 to 10 million till Feb 9, and after that started to go only down till present day, on this time frame they siphoned cash almost daily basis. That's why right now we stand on a very small price compared with the ATH and some very very small volume which is right now:

So in reality all real legit holders carry right now some bags of Billions of token's with almost 0 value, just some numbers and that's all.

Maybe some of you waiting for some pump to can get out at least 2x 3x, but if you check the remaining tokens from circulation you will see is pretty hard to hit right now those numbers.

So what we need, need tokens to be burned, VB wallet tokens, but they will not do that, and there are two reasons why they will not:
They said they don't have anymore the keys of that deployment, which of course is a lie and if they burn they will confirm this lie.
They are to greedy.
Satoshi was asked on discord when they burn VB wallet tokens, and he replied something like; WHY TO BURN MILLIONS OF DOLLARS. Make sense right?
Chapter 4
Since we already know the lies from this project let's see what they wanna do next. They hyped a lot about shibaswap, just words till now and some screenshots, but let's take this one as something which is true. Since they haven't had the best momentum to exit wallet number 2 from that list, they really need a good exit for it. So my bet right now is, they will run some shibaswap and they will add some option to it for stacking with some % offer for some period of time.

For example, you move your tokens from metamask on shibaswap and stack on shibaswap your coins for 6 months in exchange for something like 150% return. Or they will add some bone option which will work similarly to stacking. If you do that means your tokens will be blocked there for that period of time and you will not able to sell/move anything in that time frame which in the end means they can pull all the value from your tokens which is ETH and you will remain only with some numbers (coloured ones) in some dashboard.

My advice to all of you is to NOT stack/block/move anything until you see some good working plan on this project. Some very good roadmap some whitepaper which need's to look as legit as possible and some news from legit platform's and legit investors talking about shiba.

I know it is a meme coin or shitcoin or whatever is, but keep in mind you are an investor, doesn't matter you are in with $50 or $50,000. You are a legit investor in this project and you are here to gain some profits. So if you have something like 4 neurons actives you will understand the fact that this may be a community but at the end of the day this community will not put your food on the table, so look into your brain before taking decisions after you looked into your soul.

They keep saying about shiba that is a token made for the community, but every time someone tries to ask some serious legit questions they delete those questions and probably in almost all cases they ban, why the fuck you will do that if this project is for the community and is a legit one? They call serious stuff FUD, but in reality, they can't reply to your real questions.
Chapter 5
Lets talk a bit about the nickname Ryoshi which all of us know it is the deployer.

My point of view and opinion is the fact that behind Ryoshi nickname are at least two personas using it, one of them very bad with the English language and another one which clearly knows very well English. If you look into those medium articles you will see clearly there is some not so good English. Now in this equation enters our head of devs Mr Edisoncs which real name is Edinson Carranza Saldaña

This young guy from my opinion is the deployer, I can't say if is the mastermind behind this project but he is the deployer kinda 99,99%.

Now let's take a look what we have about our Edi boy:

His github: ockang (Edinson Carranza Saldaña) · GitHub

His personal website: Preparación tecnológica y educativa en IT – Edinson Carranza Saldaña (edinsoncs.com)

His twitter no 1: twitter.com/ecsentreprise

His twitter no 2: twitter.com/oockang

His company, which was incorporated on August 28 2020 in like the similar data when shib was deployed or maybe right after the first test pump. Coincidence?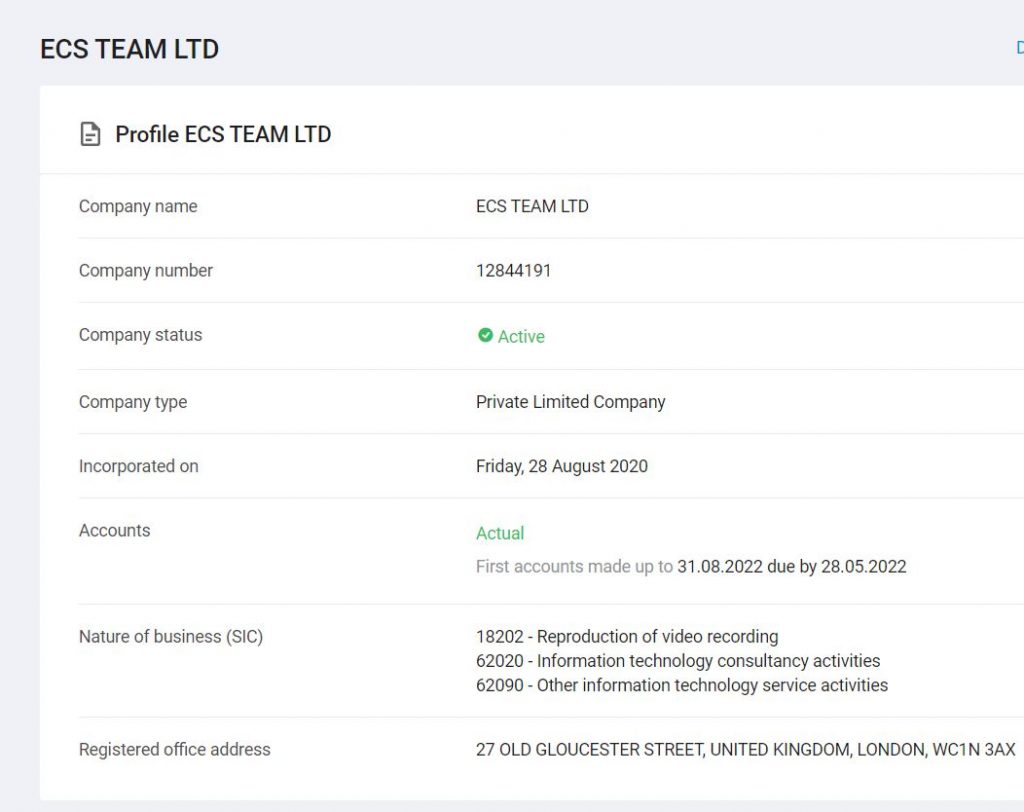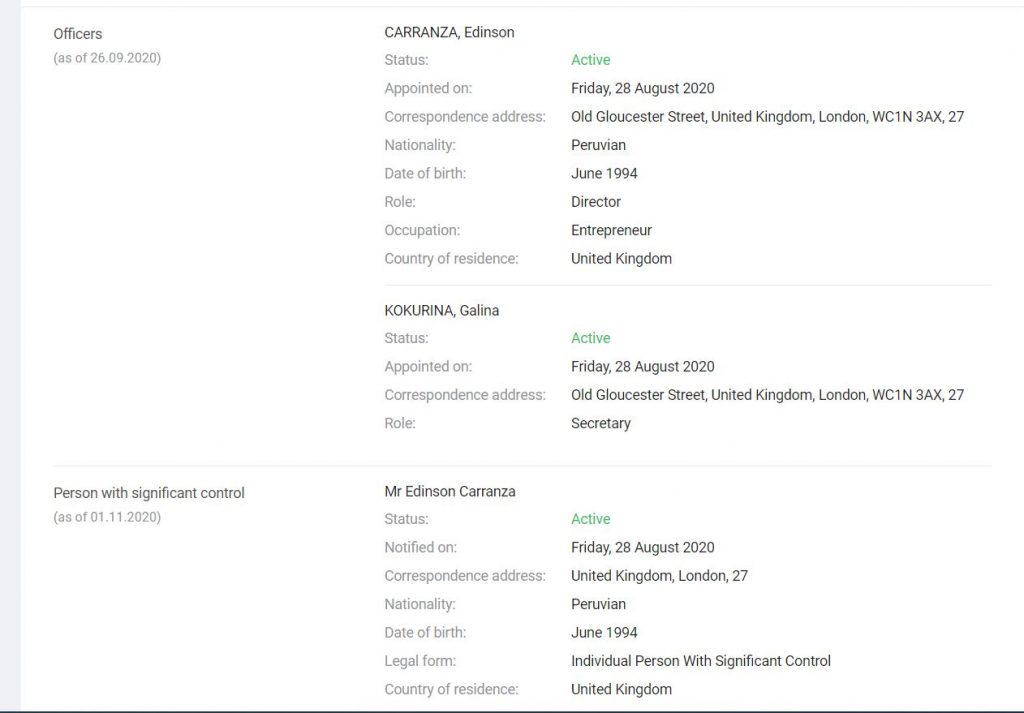 So he is from Peru and if we take a look at his Twitter accounts we will clearly see, his English is much worst than mine, for example, so for me is pretty clear he wrote those medium articles and he uses Ryoshi nickname on telegram quite a lot if you have seen that bullshit with taking a look into your soul to find the answer it is him.

Now, what is pretty weird with this amateur Edi boy?

Let's take a look at what Edy boy did in past, starting with this one:

Edinson Carranza Saldaña (tutellus.com) Here you can see him as a "teacher" trying to sell some courses online. Now if you are struggling to make and sell courses online for like $50 why in this world you need a company? Which again started to work right after shib experiment was done.

For me is pretty clear, this boy was some poor boy from Peru who tried to make anything for some cash.

Now let's take a look deeper at his past cause before shib, this Edi boy tried some other projects too.

Let's talk about WALLCHAIN
If we look into his GitHub repo's we will find there a lot of stuff about WALLCHAIN, which was mean to be this: WALLCHAIN Digital freedom and security (bitcointalk.org)

But this project was pulled of after this happened: Wallchain – Plagiarizing Content (bitcointalk.org)

The telegram channel of wall chain is dead, the website wallchain.io is dead too and the twitter of it WallChain (@WallChain_io) / Twitter dead too.

So once again for me is clear that this head of devs Edinson Carranza Saldaña aka Edisoncs aka ockang lays on to much shady stuff.

Let's stop here for now. Probably this post will suffer some updates near future but for now it is enough. I'm not here to change your beliefs, I'm here just to show you some real facts, which the dev team not stated anywhere along with the shib project. After all, you which you asked some real question you have been put on silence, right? Here brother we like you to be loud as possible and write down your opinion, no matter how crazy can sound.

I know some of you holders want to dump to cut loss but you can't cause gas is to high or maybe you even not have anymore ETH at all. I personally I can lose what I have invested and I will HOLD to see where those so-called devs will turn. If you will HOLD the line, keep in mind DON'T BLOCK YOUR COINS ANYWHERE BY ANY MEANS BEFORE THEY DON'T SHOW SOME REAL PLAN AND SOME REAL VALUE WITHOUT ARROGANCE AND LACKS OF information!

We are shibarmy, we are the community, we are watching y'all of you, so don't scam, don't rug pull, stop shady stuff and start giving back value to the community, cause you amateurs you can run but you can't hide.

Another article you might want to read:

How Uniswap scams work — part 2. In the part 1 post, we covered some… | by Captain Shield | Medium there is included shiba token too.

If anyone has any kind of evidence regarding shiba please use the contact page and send us a mail, we will include your stuff in this article too.
Source: this particular section of the BSCN Legit or Scam post about the Shiba token derives from the website of Shibarmy.net, we simply copied the full post for the sole purpose of supporting Shib Army in regards of their research as wel as allowing other people to learn more about it.

SHIBA CRYPTO: IS SHIBA A SCAM? OR HUGE OPPORTUNITY?! SHIB Analysis
IS SHIBA INU A LEGIT DOGECOIN RIVAL? SHIBA TOKEN PUMPING TODAY! OFFICIAL WHITE PAPER RELEASED!
What is up with the #SHIBA coin? (The Shiba Inu token)
shiba inu coin buy Or sell!!!
SHIBA INU TOKEN EXPLODED !! WHY IT CAN GROW HIGHER ! COMPLETE SHIB COIN ANALYSIS
SHIBA INU Coin 100X – 1000X Profit! How to Buy / News / Update / My Profit [Ultimate Breakdown]
Final thoughts:
We can not declare it spam but Shiba Inu would asymptotically move towards zero without an original product, strong underlying fundamentals, or a clear use case. It's impossible to predict when this will happen because it's challenging to judge market cycles while they're in progress.