How is doge punk better than other NFTs, and how will it work in the future? You might be wondering what Doge punk is? We are here to help the artist community with the latest news about Doge punk. Dogepunk is an artist-focused network that aims at providing back to the digital artists that make our online surfing more enjoyable.
They will provide 10% of the final auction revenues to the original inventor at the moment of sale for every new Dogepunk NFTs generated, authorized, and sold. A total of 420K NFT Dogepunk will be available to people from where they can buy and sell.
In the future, your devotion to their interest and community will be symbolized through Dogepunk NFT collections. This is a unique way to invest in crypto for those who want to invest in their interest and represent their art through doge punk.
This seems like something out of the box for crypto investors. Let's discuss more Dogepunk in this article. To get more information, continue reading.
About Dogepunks
The Dogepunks is one of our favorites. The coin itself feels very appealing to us, and we love the idea of Dogepunk collectibles. They provide the first Non-fungible Token to demonstrate your dedication to the Doge meme and Dogepunk community.
What is Dogepunk? As we said earlier, it is a community for artists. They are willing to bring happiness and joy to people who get colors in our lives as we enter Web 3.0. They generate and manufacture a limited amount of NFT, around 4200 NFT. There will never be more than 4200 NFT permitted to users.
Dogepunk is the first ever to launch an NFT that has diversity in providing multiple rewards to its doge lovers with a high supply of 420K Doge Punk NFTs, which is a large sum to be sold.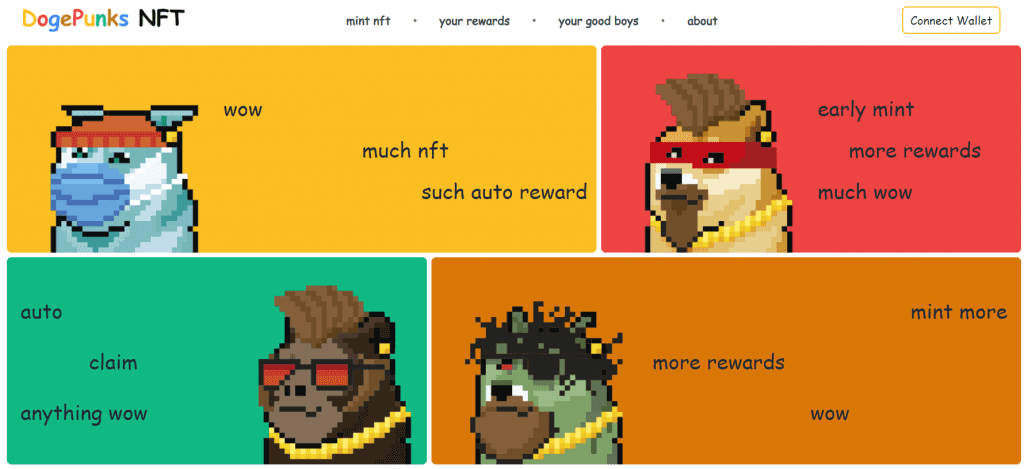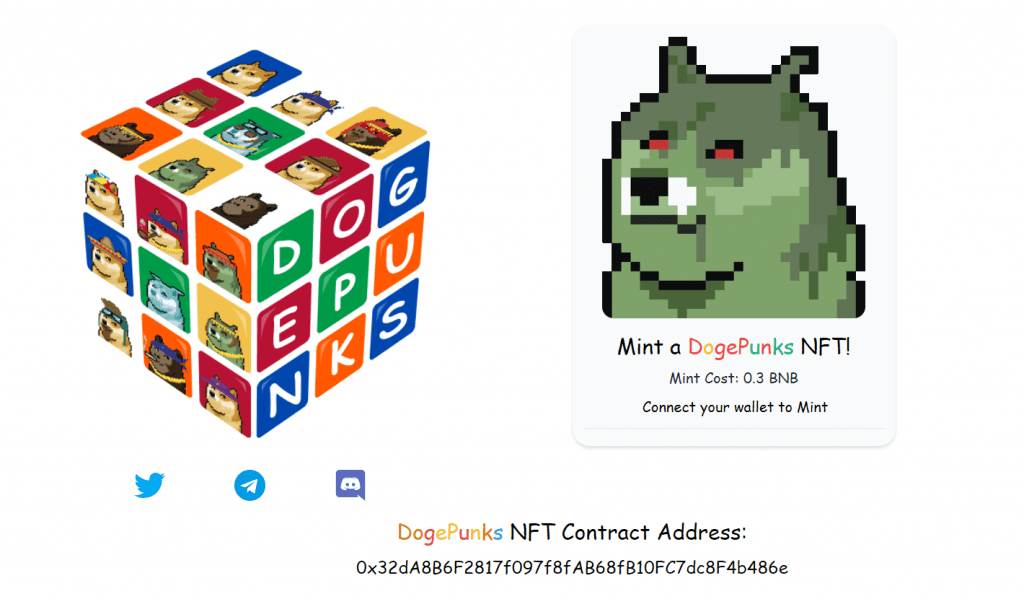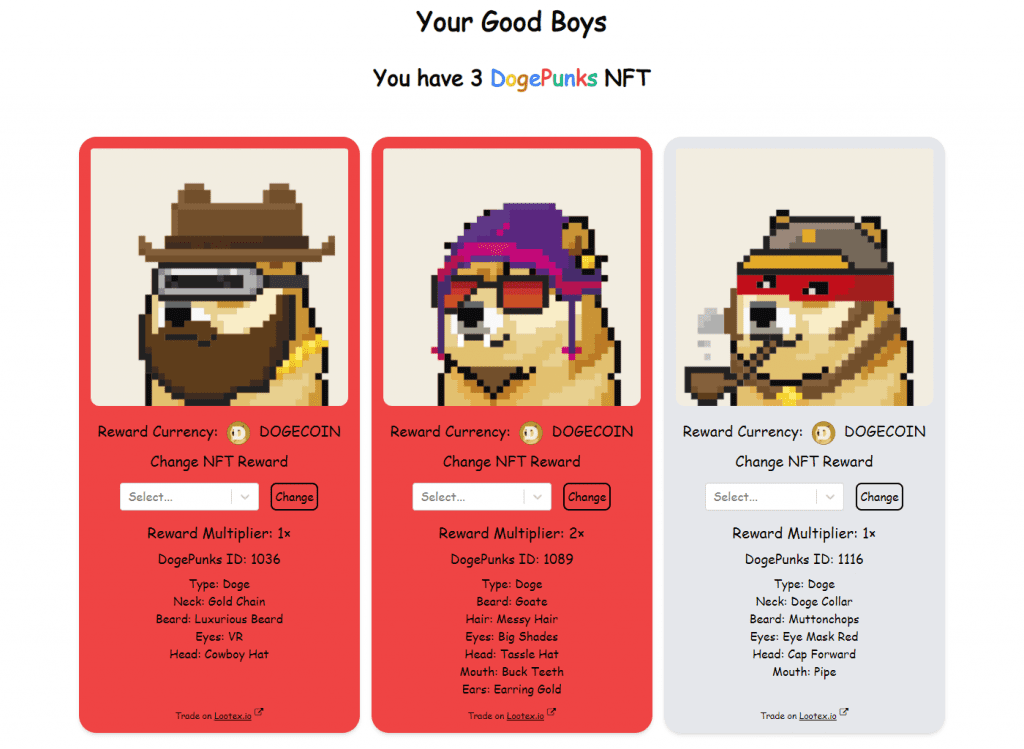 Planning And Growth
The initial batch of Dogepunk will be sold off to provide funds for in-house Dogepunk development and operations.
They will choose certain Dogepunk every week to either be sold or airdropped as their community grows and more artists develop and submit their Dogepunks. Dogepunk holders will be able to vote for the Dogepunk that is their favorite to be minted and sold at auction. To make minting easier, a built-in function is developed called as Batch mint function; this function allows people to mint multiple doge-punks simultaneously.
Distribution And Production Of Dogepunk
Founder's Bonus: The founding team can keep up to 102 Dogepunks, about 34 for each founding member and a total of 2.4 percent of Dogepunk.
Allowance For Marketing: Up to 700 Dogepunks that accounts for about 16.7 percent of total Dogepunks will be allocated and distributed to important Crypto, Dogecoin, and NFT community members to increase Dogepunk acceptance and exposure. Dogepunks will be distributed at the discretion of the founding team based on social media participation on platforms such as Reddit and Twitter.
Allowance For Community Support: Up to 1000 Dogepunks (23.8 percent of total Dogepunks) will be distributed among various Dogepunk project supporters that will not include the founding members.
This comprises artists who submit Dogepunk designs, community members who vote on new releases, and Dogepunk enthusiasts selected at random after each campaign or completion.
· Allowance To Be Auctioned
Up to 2398 Dogepunks (57 percent of total Dogepunks) will be auctioned off to the general public at the release dates and times. The artist of the Dogepunk NFT will receive 10% of the total sale price (net of ETH/Gas/Various Exchange fees). The rest of the allowance from the sale will be utilized to support the in-house Dogepunk crew.
Community Expansion
A few artists, supporters, and members of the Doge army have already stepped forward to assist us in building community piece by piece. They started a Twitter account and now have over 350 followers. They have launched their first community involvement event, of which the first 500 Twitter followers were entered to win a Dogepunk.
They have started their second community involvement campaign (retweeting their tweets will offer you another opportunity to win a Dogepunk). They have also held a few giveaways, including one for a Meebit. They intend to do more raffles to honour their 3,000 followers! They have yet another volume for all Doge and Web3 lovers.
Community Guidelines for Dogepunk
Hate speech, crypto, token, or other NFT spamming are not permitted.
They want people to be interested in Dogepunks because of art, not rare or valuable.
They don't wish Dogepunks to be viewed as a speculative investment. Purchase only what you can afford.
They aim to provide as much as they can to their Dogepunk artists and community members. That is why they have made up to 97.6% of the Dogepunk NFTs accessible for purchase or distribution to the general public, with the original author receiving an artist fee.
They don't want the cost of obtaining a Dogepunk to be a barrier. The community supporter allowance will be used to reinvest in the community.
Collaboration
Many outstanding artists have contacted Dogepunk to express their desire to collaborate. As they continue to grow together, they look forward to seeing the community's innovation on Dogepunks. They want artists' opinions on how Doge should progress on Web3. With the help of this collaboration, this will be made more accessible.
Their main objective is to promote the brilliance of local artists so that everyone may appreciate it while also having the opportunity to possess a piece of history. We think that this will be a chance for artists to be discovered by entrepreneurs, engineers, and other prominent community members looking for world-class artist talent for their projects.
Why A Big Supply Of NFT?
The Dogepunk crew is available to work with both established and emerging NFTs and artists. They reserve the right to raise or reduce the speed of releases dependent on the amount of Dogepunk received for approval and community demand, at the discretion of the Dogepunk team.
They shall never exceed their total maximum of 4200 Dogepunk or flood the auction market (at least 100 each week). They have community votes on issues like raising artist fees, deciding which set of Dogepunk to release, and collaborating with which teams/artists.
Trying to follow the legend of Doge with a higher supply to make sure those Doge-Punks have an increased supply. A more extensive supply always keeps the Doge NFTs in demand, and every user gets a chance to auction their NFTs.
Rewards
Dogepunk is merely not for speculative investment. Instead, this is a community for people who love art. Dogepunk believes in getting back to its artists with rewards.
Their creative director will assess artist submissions and place for sale following approval or a community vote. The original inventor will receive 10% of the earnings after the sale. The artist's name will be included in the Dogepunk directory to develop their brand for future success. The characteristics of this Dogepunk coin are the same as a reward token. But, they will be presented as a reward nft instead.
Types Of Rewards
Dogepunk does not only include one sort of NFT reward; instead, there are 25 different types of rewards possible, but more types will come in the future.
Automatic Rewards are allocated by 10% of the mining fee towards the rewards pool, which is automatically distributed among all dogepunk nft holders as auto rewards.
Rewards can be collected both automatically and manually once they are gathered in the reward pool.
Mints are also liable to rewards such as the earlier someone mints, the more bonuses they can earn. The minting cost per Dogepunk NFT is 0.3 BNB.
The default selected reward token is the BEP-20 Doge
Rarity Of Dogepunk NFT
On the Dogepunk, there is a one-of-a-kind digital collection of various NFTs.Each one is carefully designed, precisely sculpted, and flawlessly formed. You have creative and commercial rights and membership in the Dogepunk gang if you have a Dogepunk NFT. Depending upon the rarity of the NFT, the reward will be decided as such that the rarer the NFT is, the more reward it will give. Here are a few sets of values ranking about the rarity of the Doge NFT:
Alien rarity = 0.1%
Ape rarity = 0.36%
Zombie = 1.66%
Doge 97.88%
The Reward Multiplier
A few reward multipliers, such as the following, increase the reward by multiple folds. The regular multiplier increases the dividend by 1 – 2 times. The zombie multiplier increases by 3 – 4 times. The ape multiplier increases by 5 – 6 times, and the alien multiplier by 7 – 8 times.
regular 1 – 2 x multiplier
zombie 3 – 4 x multiplier
ape 5 – 6 x multiplier
alien 7 – 8 x multiplier
Doge-punk x SafeSwap
They are working on an integration to include Doge-punk NFT's inside the Safeswap staking mechanism. For those who don't know what Safeswap staking is, we would say that Staking is a way to lock your money in a digital wallet to earn rewards; through this mechanism, you can easily stake and hold your NFTs in your wallet.
· Opensea:
Opensea has established itself as one of the best stores for NFTs, and Dogepunk aspires to be the store's most popular NFT. It's is challenging to compete with heritage name-brand NFTs, but they have one advantage that others lack: Doge.
They are on the right road to becoming a spotlight artist if they continue to sell more on the platform and improve community involvement. One notable accomplishment for Dogepunk was climbing from #4 to #1 in the 'Doge' search in just four days.
NFT will be on opensea following the Bsc NFT integration. Token integration from your favourite bep20 project can be added later if partnerships are made. They have been approved to sell their first NFTs after minting them on Opensea. When you search Doge on Opensea, the first artist that comes up is Dogepunk.
How To Submit A Community Dogepunk?
To submit a Dogepunk, send a direct message to @dogepunks on Twitter. Please allow up to two days for a response and acknowledgement to your submission. During this time, their creative director/lead artist will assess your work.
They wish to recognize the artist's originality and ingenuity, but they reserve the right to reject a submission. Not every contribution will be chosen. They try their best to choose as many artists as possible due to the enormous number of interested artists so that everyone may have their Dogepunk included.
Don't bother them with spam during the evaluation period. The people who spam will not cut the queue for any other artist submissions if you do this. There is no curtailment to the number of Dogepunks you may submit or the number of times you can choose.
Would you mind using judgment when creating high-quality Dogepunks to increase your chances of being chosen numerous times? Once you are selected for the 10% artist commission to be transferred to, you must already have an Ethereum wallet.
By submitting artwork, you affirm that you are the original artist or working with the original artist to introduce your Dogepunk. They have a strict zero-tolerance attitude for art theft and have the right to withdraw the submission or place a hold on the commission payment until the parties can agree.
· Trading Dogepunk
Dogepunk NFT'S are currently tradeable on two platforms that are lootex.io and nftrade.com. But, soon, more partnerships are in progress, and Dogepunk NFT will be made available on other platforms.