BSCDaily.com hosts Dino.exchange: an automated market-making (AMM) decentralized exchange (DEX) running on Binance Smart Chain with a lot of features that let you earn tokens by yield farming or playing games on the platform
---
BSCdaily – Admin: Hello everyone, welcome to the special AMA session with Dino.exchange
BSCdaily – Admin: We are so glad to have @dinoceb from Dino.exchange here with us for today's AMA session

BSCdaily – Admin: Morning @dinoceb, so nice to have you onboard with us

Cebastian: Good morning everyone! Thanks for having me here today.

BSCdaily – Admin: The pleasure is ours

BSCdaily – Admin: Lets begin today's session now shall we @dinoceb?

Cebastian: sure, my body is ready

BSCdaily – Admin: Love your spirit
Q1: Can you introduce yourself to our community?
Cebastian: Okay, my name is Cebastian, CEO of Dino.exchange. I have been in the crypto space for more than five years.

BSCdaily – Admin: Great start
Q2: To start this AMA, let's give the audience a brief description of what Dino.Exchange is
Cebastian: Dino.exchange is an automated market-making (AMM) decentralized exchange (DEX) running on Binance Smart Chain with many features that let you earn tokens by yield farming or playing games on our platform.

We want to create an environment where people can do yield farming with sustainably high APR.

BSCdaily – Admin: Wow impressive

BSCdaily – Admin: That definitely gives us an idea about Dino Exchange
Q3: What are the competitive advantages of Dino.exchange compared to other projects?
Cebastian: We have a better AMM DEX and a farming protocol that offers great APY, our advantage also comes from the features that most of of our competitors do not have, they are:

Dex Aggregator

An algorithm that aggregates different liquidity protocols to discover the most efficient swap for your buy/sell order to maximize the tokens received.

Analytics

A statistical automatic analysis system that assists users in capturing market information.

Portfolio Tracker

All in one – an asset management portal for decentralized finance (Defi) on BSC. Users can log in with their wallets and see all their assets in one place, as well as simple interfaces for making further investments – in yield farming, liquidity mining, or simply diversifying their token holdings.

Games

Provably-fair games run on top of the DeFi ecosystem, such as lottery, dice, and more.

Each game will have a unique mechanism to lock/burn DINO tokens to reduce the circulating token supply.

Binary Option Trading

The first decentralized binary option, in which the platform plays a neutral role. A portion of trading fee will be used to burn and buyback tokens.

Limit Order

Offering the Limit Order functionality for all the DinoExchange users on the platform. It will allow users to fully control their order by buying and selling at a specified price.

Margin Trading

Leveraged and margin trading, also on top of the decentralized order book exchange.

Mobile DApp

Fully functional and responsive mobile DApp for both Android and iOS to ensure 24/7 access to the DinoExchange ecosystem.

Payment Gateway

Integrating the DINO token into payment gateways on iOS and Android for users to make rapid and convenient purchases

Cross-Chain Swap

Cross-chain swap on DinoExchange DEX allows users to swap their cryptocurrencies across popular blockchains, without having to switch between platforms.

BSCdaily – Admin: Wow, so Dino.exchange is an exclusive AMM DEX with Limit Order, Margin Trading, Portfolio Tracker, Games, Binary Option Trading, Mobile DApp, Payment Gateway,…

BSCdaily – Admin: That's pretty much all-in-one platform

Cebastian: that's what we are trying to accomplish

BSCdaily – Admin: Without a question, I believe Dino.exchange will be a major player on #BinanceSmartChain in the upcoming time
Q4: Could you share with us some of the information about your Tokenomics?
Cebastian: The tokenomics of DINO can be broken down as follows

Ticker: DINO

Chain: Binance Smart Chain

Contract address: 0xf317932ee2C30fa5d0E14416775977801734812D

Total Supply: 200,000,000 DINO

Emission Rate: 6 DINO / block

Block Reward: Current block reward is 6 DINO

Cebastian: The initial emission rate is 6 DINO per block. And the emission rate will be reduced by 3% every 864,000 blocks (~30 days).

Unlike other yield farms where developers manually reduce emission rates according to their own wishes, our emission rate reduction logic is coded in the smart contract. It will be executed once update Emission Rate is called every 30 days.

Cebastian: This mechanism will greatly reduce the total supply and make our token rarer and help make DINO more valuable to hold.

BSCdaily – Admin: Awesome, $DINO mechanism is amazing
Q5: I noticed you mentioned about $DINO token earlier. I wonder what would be the benefits of holding it? Could you share with us some of $DINO token use cases?
Cebastian: Of course. DinoExchange token ($DINO) is the platform's native token.

Users are rewarded with DINO tokens for staking their funds on the platform. They can then stake their DINO tokens to earn other types of tokens on special staking pools.

The DINO token can use for participating in community governance where users can vote on decisions relating to the direction or running of DinoExchange.

Holders can also use DINO to participate in different games on the platform and have a chance to win attractive prizes. More token use cases to be updated in the future.

BSCdaily – Admin: Nice, that has already piqued my interest in holding $DINO
Q6: I heard that $DINO Whitelist/IDO was a great success, it has become the talk of the town lately. Could you also tell us more about your Public Sale?
Cebastian: You can now buy $DINO at swap.dino.exchange. We've just launched so the price is very tasty. Our farming will soon be coming, this is a great news that incentivizes holding the token.

$DINO contract is 0xf317932ee2C30fa5d0E14416775977801734812D

BSCdaily – Admin: Farming is coming!?

BSCdaily – Admin: Well, I don't want to predict the future but high chances that $DINO price will

Cebastian: ETA is ~12 days

BSCdaily – Admin: Better save the contract from now

BSCdaily – Admin: $DINO contract – 0xf317932ee2C30fa5d0E14416775977801734812D

BSCdaily – Admin: Let's move on to the next question
Q7: Could you share with us your roadmap?
Cebastian: Yes. The following is more than just a roadmap. It is a list of major milestones that DinoExchange wants to achieve. We are working to create a solid and transparent financial foundation, with strong calculated financial principles and tools that bring outstanding value to our users.

You can look at the roadmap in the graphic below: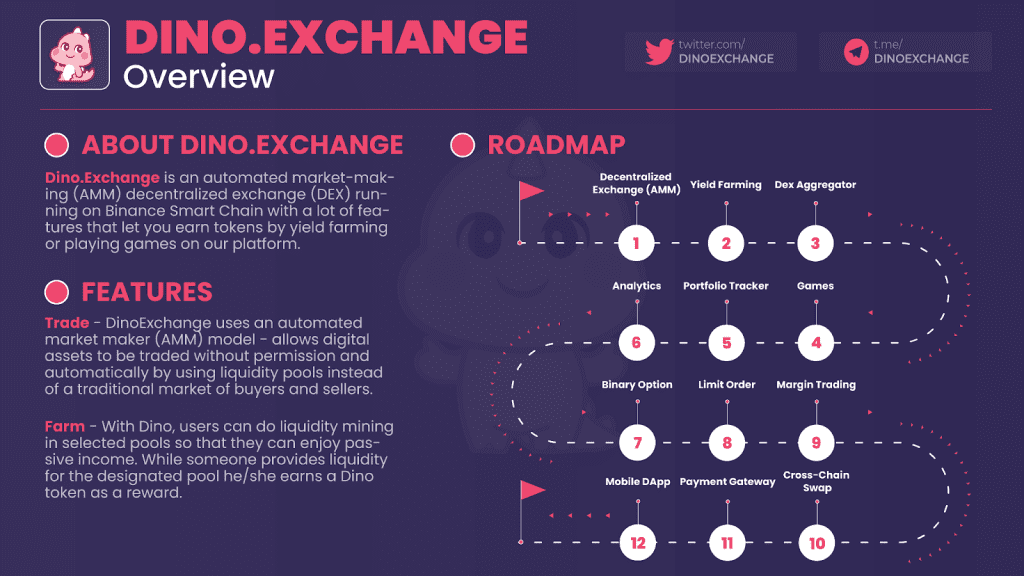 BSCdaily – Admin: Beautiful!
BSCdaily – Admin: Thanks for that well-detailed roadmap of Dino.exchange
Q8: Final question, where can we find news about Dino.exchange?
Cebastian: Here is our important links. Follow us and stay tuned for the latest news.
---
BSCdaily – Admin: That's the end of the 1st segment

BSCdaily – Admin: Thanks a lot for answering questions from the host @dinoceb

BSCdaily – Admin: Let's move to our Second Segment – Live Questions

BSCdaily – Admin: I guess we are all excited to know more about Dino.exchange

BSCdaily – Admin: Before beginning the Live Questions Segment, I wanna take a second and say thanks to everyone who showed us their love by spreading the news about the AMA and following Dino.exchange

BSCdaily – Admin: It's you guys who motivates us to do better

BSCdaily – Admin: In this segment, chat will be open and you guys may send questions related to Dino.exchange to @dinoceb. He will choose the best 5 questions to answer and those with the best questions will share $50 BUSD!

BSCdaily – Admin: And for those whose questions didn't got selected in this segment

Don't worry you guys because @dinoceb would love to answer any unanswered questions left after the AMA in @dinoexchange group

So don't forget to join @dinoexchange

BSCdaily – Admin: Are you ready to rock the stage, @dinoceb?

Cebastian: Let's go!

BSCdaily – Admin: Great, here we go!
---
Live questions with Dino Exchange
1st question – from @imtoandang

Can you explain how is DINO Tokenomics Distribution? How many DINO tokens will be minted? And how many tokens will be locked by the team?

Cebastian: A large portion of DINO token will be acquired from mining. For the full tokenomics and distribution plan you can have a look at two graphics here: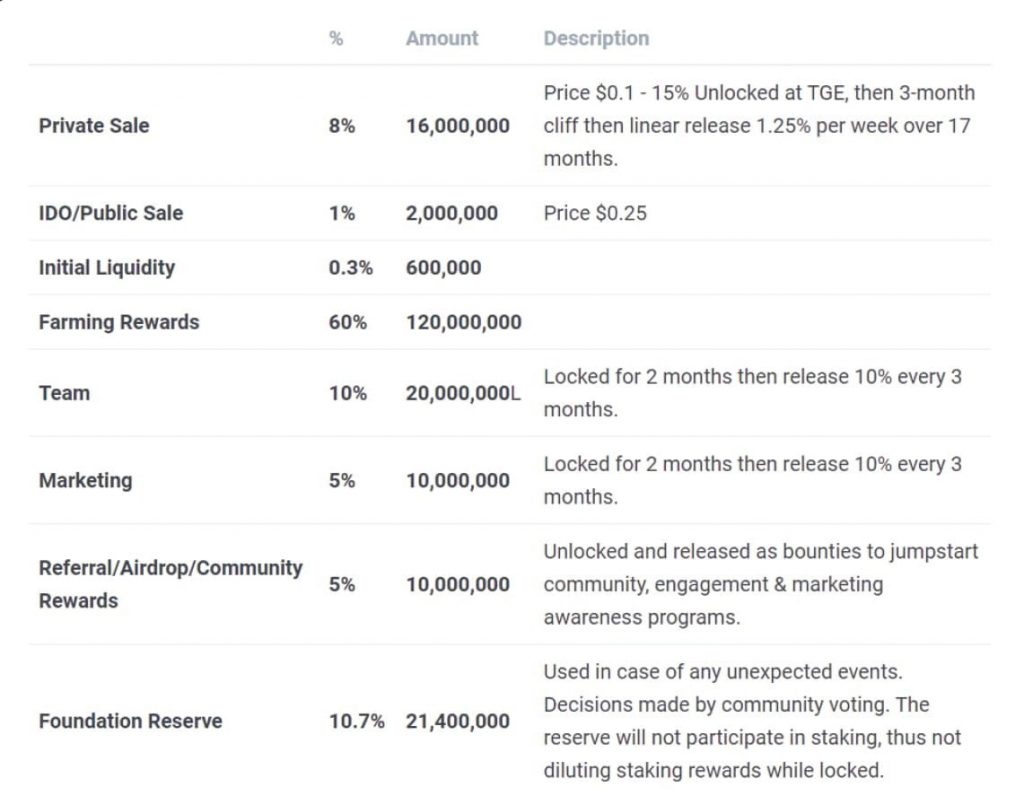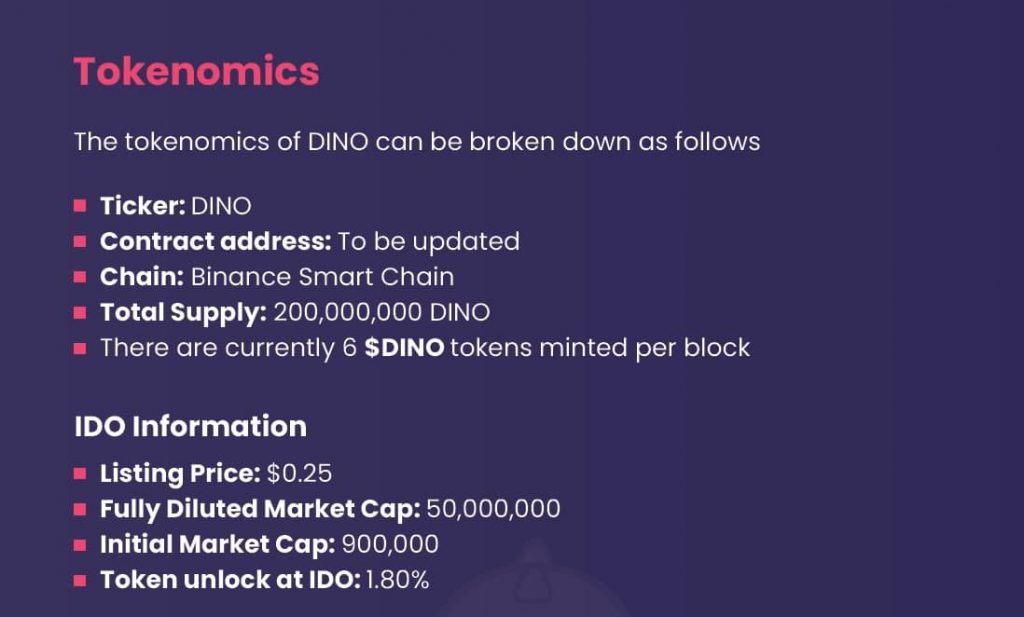 2nd question – from @Wasmrazy721

Where is the the "Dino Exchange " name coming from and what is the logo representing?

Cebastian: We aim to be the Giant DINO in a new age of DeFi on Binance Smart Chain. There are a lot of updates coming next days & weeks, please follow our channels to stay updated: @dinoexchange

3rd question – from @nikbecola

Partnership with other project(s) result in synergy that would increase growth rate. Which project(s) has #Dino Exchange partnered with or looking forward to partner with?

Cebastian: Yes, we do! Our partnership plans and roadmap both including big marketing/ ventures partners and project partners. With project partners we want to team up to offer our traders the best pool with highest APR

4th question – from @KangEngkus8

Is there any new protection being taken to prevent us Dino Exchange to get rugged?

Cebastian: We follow a proven and established convention for token locking. All tokens under a vesting schedule will be stored in timelock contracts. This brings the utmost level of financial security for the project.

we are also working with giants in smart contract auditing, their results will ensure our security. We will also soon announce our strategic partnerships. No big names want to partner with rugpull project, don't they?

5th question – from @xuanhanh372609

What's the competitive advantage of Dino Exchange Product to its users?

Cebastian: Farming and staking are becoming increasingly popular in the DeFi ecosystem. While all projects provide the same basic yield mechanisms, the increasing value actually depends on the ecosystem as a whole.

The Dino protocol aims to provide not only idle farming but also real use cases: DeFi products which users can actively participate in (e.g., provably-fair games) and DeFi-enabled ones (e.g., wallet and Dapp browser). Use cases are king.

Besides, APR and exclusive pools will be our competitive advantages. Our tech will ensure the highest APR possible so farmers can enjoy tasty passive income
Quiz about Dino Exchange
BSCdaily – Admin: Thank you @dinoceb for all your dedicated answers

BSCdaily – Admin: So, without making a delay…Let's move on to our last segment – Live Quizzes

BSCdaily – Admin: Let me remind the rules to the community before the Quizzes

In order to receive AMA rewards , you must follow the following channels:

@dinoexchange

@dinoexchangeann
BSCdaily – Admin: I will be unmuting the chat in next 30 seconds, please follow the rules above

Quiz 1: What is the token of DINO?

A. DINO

B. EXCHANGE

C. STONE

D. DINOEX

Quiz 2: What blockchain is Dino.exchange built upon?

A. Ethereum
B. Binance Smart Chain

C. Polkadot

D. Solana

Quiz 3: What are the features of Dino.exchange?

A. AMM DEX & Yield Farming with high APR

B. Dex Aggregator & Analytics

C. Portfolio Tracker & Games

D. Limit Order & Cross-chain Swaps
E. All of the above

Quiz 4: What are $DINO token use cases?

A. Staking

B. Governance

C. Games

D. Transaction fee

E. All of the above

Quiz 5: What is DINO Total Supply?

A. 2,000,000

B. 200,000,000

C. 2,000,000,000

D. 20,000,000,000
BSCdaily – Admin: With this we are now at the end of our AMA session with DINO EXCHANGE

BSCdaily – Admin: Time for wrapping up, any last words you would like to say to our community? @dinoceb

Cebastian: What a passionate community! BSCDaily and DINO Thanks so much for your participation and attention. See you in the next moon rise!

BSCdaily – Admin: It was a pleasure having you @dinoceb

BSCdaily – Admin: Thank you so much for spending time with our community & all the very best for Dino.exchange

BSCdaily – Admin: You can ask more questions by joining $DINO Telegram group @dinoexchange

BSCdaily – Admin: I wish $DINO all the best and look forward to its development in the near future

BSCdaily – Admin: Dino.Exchange – To The Moon and Beyond

BSCdaily – Admin: Here below are links for you to get the latest updates about Dino.exchange:

Website: dino.exchange/

Twitter: twitter.com/dinoexchange

Telegram chat: t.me/dinoexchange

Telegram announcement: t.me/dinoexchangeann

Medium: medium.com/@dinoexchange

DinoExchange Docs: docs.Dino.exchange/dino/
Source of the original AMA with Dino Exchange by BSCDaily