BSCDaily.com hosts Cue Protocol: a community-driven protocol with deflationary mechanics and actual use cases
---
BSCdaily – Admin: Hello everyone! Today our guest is: @cuepio from Cue Protocol
Cue Protocol: Hi everyone, great to be here

BSCdaily – Admin: Thank you for attending today's AMA @cuepio, it's our pleasure to have you here

BSCdaily – Admin: Are you ready? @cuepio

Cue Protocol: Lets do it

BSCdaily – Admin: Okay, let's get the show on the road
Q1: Can you introduce CUE Protocol and the team?
Cue Protocol: We are a team of 3 core founding members based in the UK.

2 devs and 1 other who does are admin side.

We have worked in the tech industry for the last 16 years on a wide range of things from enterprise solutions to iOS and Andoid apps.

We are an anonymous team, but our reasons for doing so are to avoid solicitation and scammers targeting our personal lives. We have had many attempts already, so we can only imagine what it would be like if we were known.

It's important we protect our personal lives during the early stages to avoid this as we have families. We are not a young team, we are all 30+ age wise, so some of us have children too.

We have hired admins for our TG chat and also brought in a great marketing partner (Petros Anagnostou) who has been exceptional since he came onboard with his team.

BSCdaily – Admin: Agreed, anonymity isn't a big deal as long as the team does their work well and delivers an excellent product

Cue Protocol: Yeah we are gaining trust day by day, but true trust will be gained as we fulfill our roadmap.
Q2: What dapps are coming to CUE protocol?
Cue Protocol: We have a lottery dapp, NFT dapp and CUEDiligence coming this quarter.

Later in the year there will be other dapps too.
These will be hosted in our CUE Hub.

Q3: Can you give us a summary of the CUEDiligence dapp?
Cue Protocol: Sure.

This platform will be a one stop shop for due diligence on crypto investing, we will allow projects to list and provide all aspects of information in one place such as audits, KYC, team details, social links and other basic details.

They will be able to link to documents, add team members or declare themselves anonymous and information of their token contract will be pulled through too.

They will be to arrange for KYC or audits directly from the platform through the partners we announced last week.

We will also show the social sentiment through Twitter.

We will be partnering with launchpads and rug investigator groups to log information on the listed projects, so people can see it all in one place, both negative and positive.

The aim of the project is not to catch projects out and then call them out as a rug. The aim is to find those that list and all of their data is excellent, giving investors a great positive snapshot that the project is legit.

Legit projects will want to be included because they have nothing to hide, all scrutiny can be logged and answered in one place. It's sort of like a company audit, not just a smart contract audit.

We hope the question to projects by investors will be: "Have been you been cued yet?" rather than "Have you been audited yet"

This platform will provide revenue for both the governance wallet which the holders control and the development team.
Q4: I see you announced 2 NFT's for holders recently. Can you explain these?
Cue Protocol: We announced two NFT's for holders to earn from Friday 23rd April which is in two days time.

The first is our CUE Strong Hands NFT, holders need to hold 20 CUE for 45 days to earn this.

The second is our CUE Diamond Hands NFT, holders need to hold 50 CUE for 90 days to earn this.

There will be no other way to earn these once the end date is reached. Those that do achieve them will likely have some very rare NFT's on their hands and therefore could sell for a good value.

We may be also planning to add some benefits to these so holders may not want to sell as these benefits are tied to the NFT holder.

Here are the NFT's: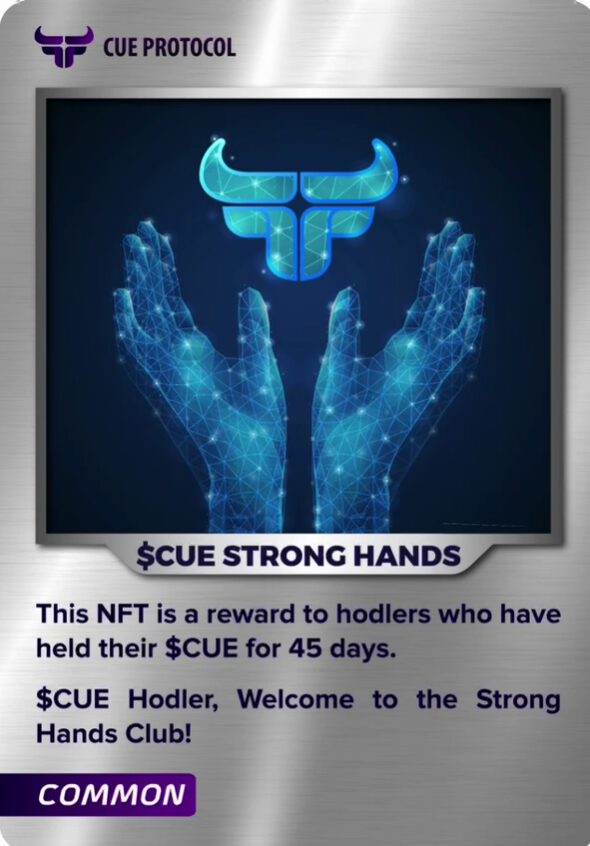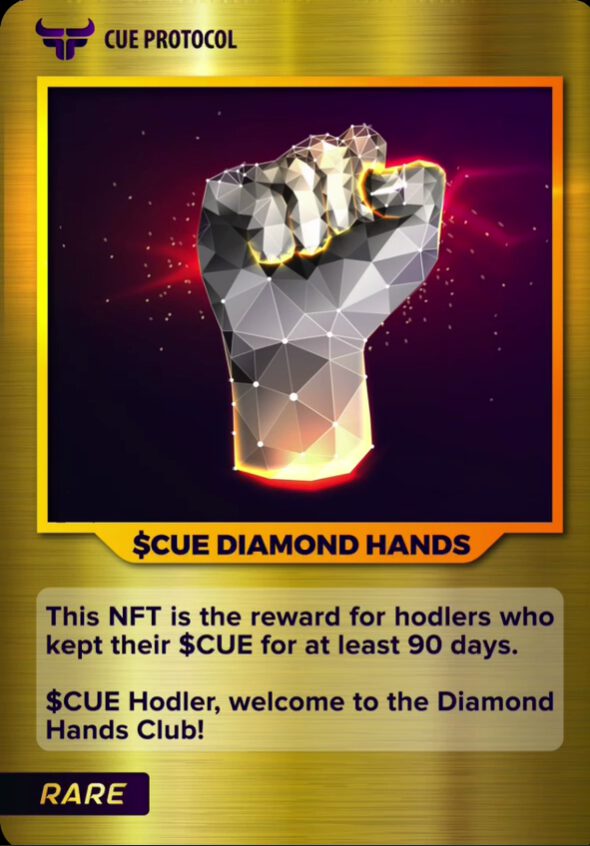 BSCdaily – Admin: Wow, great stuffs
Q5: Will you have more NFT's in the future?
Cue Protocol: Yes, we have our artists are working on collections right now.

The great thing about NFTs is being able to provide some fun concepts with great use cases, such as transaction fee rebates, lottery ticket discounts, CUEDiligence benefits and many others.

We are also going to allow other artists to put their collections on our platform too, which will earn revenue.
Q6: Can you tell us about your roadmap, what's coming up?
Cue Protocol: We are working on many things right now, such as CUEDiligence which is our anti-rug project to help investors find legit projects and weed out the scams.

We have our Lottery coming this month, this will give some fun to holders but also give a % to charities via binance.charity as we want to give back and help some great causes.

NFT's are on the way and some of these will also have holder benefits within the CUE ecosystem and others will be rare collectibles.

We also have plans to allow other artists to publish their collections on our dapp.

From here we work on an iOS/Android CUE hub, this app will allow holders to interact with our whole ecosystem like they can at cuep.io/hub.

The final item in our 2021 roadmap is another dapp called CUE Safe Haven, this dapp is currently in concept stage and we have not yet released any details as we prefer to keep this one quiet for now.

BSCdaily – Admin: Nice, there are lots of things to look forward to for $CUE investors

Cue Protocol: Indeed, it's full steam ahead.
Q7: Do you have, or intend to make any partnerships?
Cue Protocol: We announced our first partnerships last week:

Certik are onboard as an accredited auditor for our CUEDiligence dapp.

Rug Detectives are onboard as an accredited auditor for our CUEDiligence dapp.

Rug Detectives are onboard as an accredited KYC provider for our CUEDiligence dapp.

Quill Audits (Quill Hash) are onboard as an accredited auditor for our CUEDiligence dapp.

We have many more to come to which are currently in discussions.

BSCdaily – Admin: You've got some big names there

Cue Protocol: Yeah we are very happy to be working with them.
Q8: When is the next governance vote and what options can holders vote for in these votes?
Cue Protocol: The next vote is this Friday in two days time.

We have had many options in the past such as token burns, marketing, development, staking and investment opportunities in other cryptocurrencies.

These voting options can be split too like 50/50, 75/25 etc.

The holders need a minimum amount of CUE in their wallet to participate in the voting.
Q9: Can you explain the CUE Hub and it's purpose?
Cue Protocol: The CUE Hub is the base for where everything we build will be accessed (dapps, NFT's, etc).

We have a new version coming out for Friday with a few enhancements.cuep.io/hub
Q10: What milestones have you completed so far in your short journey?
Cue Protocol: We launched 4.5 weeks ago on the BSC Starter launchpad, initially we had to get 10% of their holders votes to have our IDO take place, so that was a huge milestone, otherwise the IDO would have been delayed.

The IDO then took place and sold out in 10 seconds and we listed on PancakeSwap a few hours later.

Since then we have released our CUE Hub which is where all of our dapps will live and be accessed from.

We also released our first dapp which is the voting platform for our governance wallet and hosted two votes and as mentioned the third is on Friday.

We started marketing which continues.

We listed on all the major apps such as coinmarketcap, coingecko, blockfolio, coinstats, lunarcrush, dappradar and many more.

We released our roadmap for 2021 as outlined earlier with new items not known to investors such as NFT's, lottery and iOS/Android apps.

We announced our first 3 partnerships last week.

We released our first two NFT's this week.

We continue to create growth through our marketing channels and also build and deploy our roadmap.
---
BSCdaily – Admin: As we are coming to the end of the AMA. @cuepio, anything else you'd like to add before the end?

Cue Protocol: Thank you for hosting us

BSCdaily – Admin: Thank you very much for your time today at BSC Daily @cuepio

BSCdaily – Admin: Hope you have enjoyed yourself as much as all of us did

BSCdaily – Admin: I wish Cue Protocol all the best and look forward to its development in the near future
Source of the ama about Cue Protocol by BSCDaily.com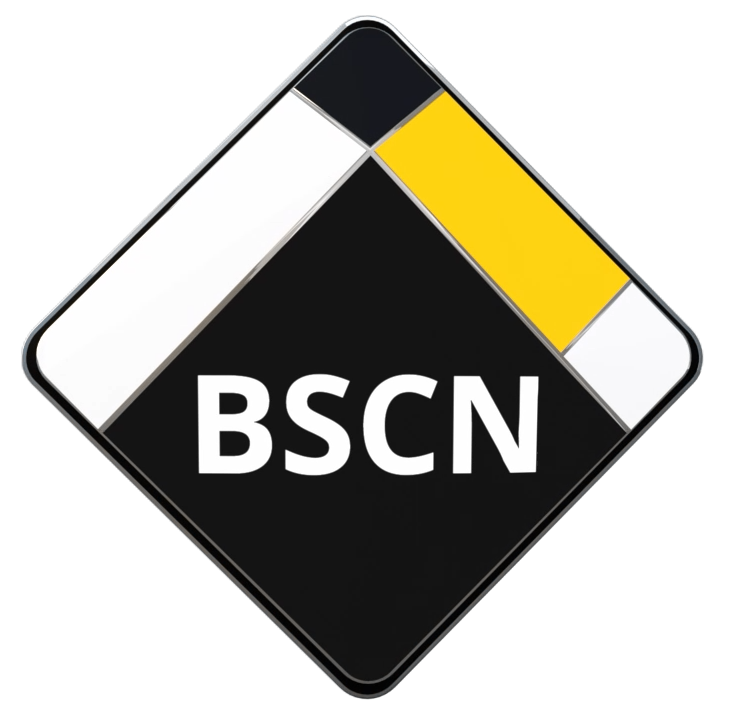 BSCN is aiming to become the leading media coverage platform around the Binance Smart Chain Ecosystem. With a strong focus towards Content Quality, Decentralized platforms, Hot topics in the market, Informative and education sources and guidance in how to be more aware around unreliable crypto projects.