These prominent influencers in the BSC ecosystem voiced their opinions on the latest BSC news and their outlook on the space. The following crypto Twitter personalities are featured in these interviews: @LetMeApe, @CryptoBethany, @BSmartInvest, @400Unicorns, and last but not least, @NickelsSpitting.
What is Crypto-Twitter?
Crypto-Twitter (CT) is just Twitter, but the people involved in crypto have been using Twitter as a medium to get and give information about everything crypto-related. Twitter is the fastest medium for crypto news. The most successful influencers grew their following because of their excellent calls or their hilarious "shit-posting" (funny quotes, memes clips crypto related) are known as the CT "OG's" (original gangsters). These users voiced their opinions on Twitter in the heart of the bull market in 2017; but many began years before this.

Most of the crypto community has yet to dabble in the Binance Smart Chain (BSC) network. Since the inception of the BSC many accounts have been excellent resources for navigating the crypto space. They are becoming the "OG's" of the BSC network.
‍
This article features interviews with six prominent influencers. These interviews dive into who they are, and their perceptions of BSC projects' current and future state.

So here we go…

(not in any particular order) -except CZ of course-


The Influencer's
Changpeng Zhao (CZ) is the founder of the biggest centralized exchange, Binance. Binance created the BSC, so CZ, in this sense, IS the OG for BSC. According to quotes from earlier interviews, CZ thinks De-Fi will be much more prominent in the future and even might start replacing centralized finance (banks) as we know it. Also, he believes that decentralized exchanges (DEX) automated market makers (AMM) will take a lot of market share from the centralized exchanges (CEX), which dominate the finance landscape. Prominent CEX's like Binance, Coinbase, and FTX have and will continue to face this competition; the teams at Binance and FTX are already innovating in these spaces to protect their market share.

Binance's quick adoption of decentralized finance (De-Fi) through the BSC will allocate a large portion of that market share. Considering the drawbacks of the Ethereum network -the leading smart contract network- many users will see benefits in migrating to the BSC ecosystem. The BSC offers fast transactions and low fees(5 seconds and about $0.10 per transaction), trumping those of the Ethereum network. Both networks can use the EVM (Ethereum Virtual Machine), allowing Ethereum projects to switch to BSC or create a cross-chain project effortlessly. On top of this, the Binance accelerator fund will attract many new projects through funding and the direct support that selected projects receive.

CZ is a must-follow if you are in the crypto space.
‍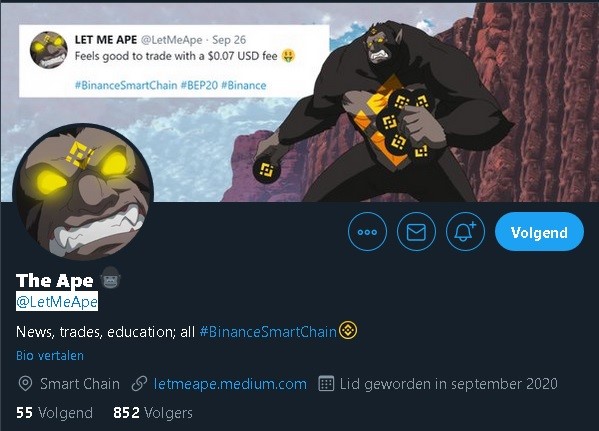 The Ape when asked about who he is answered that he would like to maintain his anonymity, the only thing he would share is that he's 20 years old.

So I asked him how he got himself into the crypto world, and he answered:



"I first got in BTC a while back. I loved everything about it, but the two things I loved the most are:
1. Using it as a payment method.
2. That it is accessible world-wide.

From then on I fell in love with cryptocurrency and I'm still in love to this day. "
How did you find out about the BSC network, and why did you like/love it?
"I first found out about Binance Smart Chain on September23 when Binance Academy posted their article about PancakeSwap. From then on, it has been a wonderful journey in which I got to be part of an amazing community and a new blockchain that's growing at an accelerated rate.

‍I loved everything about it, but the things I love the most are:

1. The fact that I managed to be one of the first people to join and see how everything develops.

2. The fees to be completely honest with you"
‍
How long have you been in the crypto scene?
"Not that long in comparison to other people around here. I think I first touched cryptocurrency in 2015 and started being serious about it around 2018. "
What's your take on the many rug pulls and destructive projects? How do you go about vetting new projects?
"I think most people already know I hate scams and everything about it. I've tried to warn people about as many as I could and I'm currently writing an article on "How To Spot a Potential RUG" which will go live in within 48 hours (I hope). I can't stop everyone from buying in on a rug, but I can at least tell them what to look for before joining new projects .It was expected that rugs will come rapidly as developers already have experience from Ethereum. How to trust a project? That's not that hard. A time-lock, some 'legit moves' and a little bit of patience, and I think that's good enough. (Maybe an audit would be nice as well)"
What projects have a promising future ahead on the BSC?
"In this exact moment I can put my money on PancakeSwap and Thugs. I'm sure that in a couple of months more projects are going to join my list."
Why follow The Ape?
–Trading tips

–Safety tips

–Crypto education

–Medium page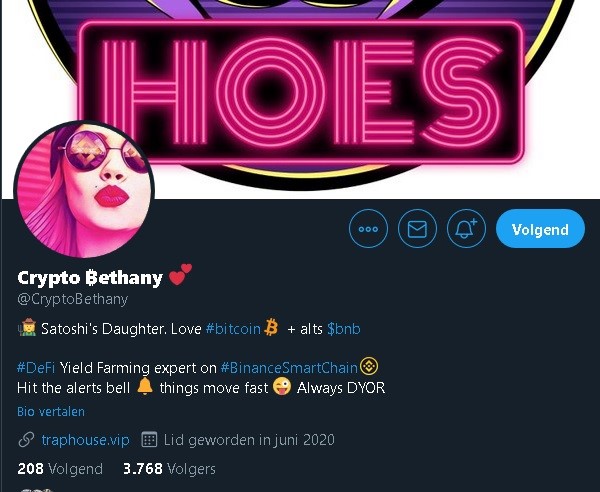 Crypto Bethany started trading in crypto and FOREX markets in 2018. After much success in technical trading, specifically on Bitcoin, she went full time in March of 2020. At this point, some of the crypto Twitter "OG's" started thinking her account was an alt account of another well-known influencer. This was not the case, but helped to get more people noticing the 27-year-old Australian.
‍
How did you discover the BSC, and why does it appeal to you?
"I was posting TA on bitcoin & tokens like SXP then discovered yield farming on ETH with Sushi, I heard about StakeCow and tried Binance Smart Chain, I never looked back. I simply loved the speed & simplicity of it, the low fees and accessibility of it."

"When BurgerSwap launched I thought it was the greatest thing ever, it was the biggest, I was also an early user of BakerySwap. I used PancakeSwap in hour one, then witnessed PancakeSwap take over from burger in a matter of 72hours. After all that, I fell in love with Thugs Finance, and I'm so happy to be an early user and part of their amazing community."
When asked her take on the recent rug-pulls and scams she answered:
"On the rug pulls: I've participated in two of the main three scams, Safuswap & bscswap. I called out wineswap & got RTd by cz on that… with Binance eventually returning the funds, which is huge and something that doesn't really exist in the ETH network, making BSC safer.
What projects have a promising future ahead on the BSC?
"Good future: Thugs finance, NarwhalSwap & beefyfinance, to me the depth & width of Thugs potential, the UI & speed of Narwhal and the genius of beefy are all game changers. I think beefy & thugs new AMM token will be listed on Binance, or receive more accelerator funding from Binance, or both! "

As you can see Bethany loves the BSC and is an investor in many projects who run on the chain.
Why should you follow CryptoBethany.
–She's excellent at finding new projects

–Gives useful updates on existing projects

–Warns for (potential) scams

–Enthusiastic person with honest opinions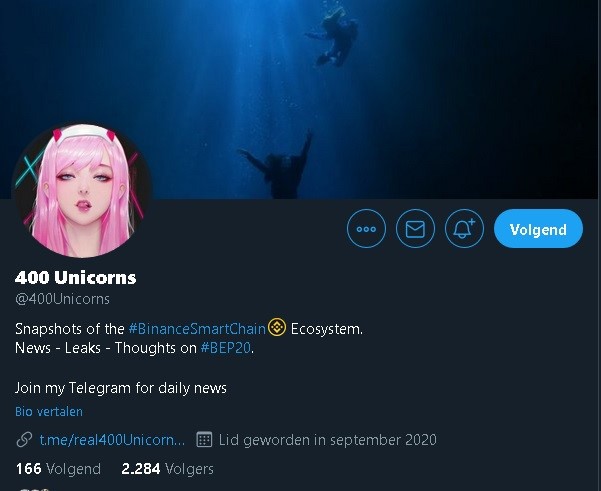 The Berlin-based 400 Unicorns has been in the crypto space since the 2013-2014 bull race. According to himself, he is a massive nerd, so it's no coincidence that when hearing about Bitcoin in the news, his interest sparked.

"Though I was mostly profit-driven during my early days and worked on a few mining-related Projects. Berlin was and still is an amazing city for Crypto Enthusiasts, which made it very easy for me to get in touch with the right people early on and what put me on a good path."
What was your introduction to the BSC. What converted you?
"I was already engaged in the De-Fi space prior to the BSC and got frustrated with the amount of maintenance ETH requires. High Fees & waiting times can cut into margins big time, and when you repeat this process a few hundred times, it takes away quite a chunk of your Profits. I heard about the BSC on one of CZs AMAs or Summits. Joined at Public launch shortly after and kind of never left.
‍
What's your take on the many failed projects, scams and Rug-pulls. How do you trust new projects?
"The rate of failed BSC Projects vs. Total active ones should be relatively close to the ones on the ETH Network. Many investors seem to have trouble figuring out who to trust, which projects have legitimate intents, how to actually read contracts and so on.

Good advice to these people would be to question what influencers have to say on Social Media and to do your own research or find smarter people with proven skill sets that can help you. Many Influencers are getting paid to promote a brand. If they don't, chances are they are heavily invested in a project they are currently promoting themselves, and their audience is paying the price.
Which projects will have a promising future on BSC?
Success is not a guarantee, and most projects will fail in the long term. None of these are endorsements but rather a selection of interesting ideas that I think could use some more exploring. Things like the Swirge Network, Gravity Protocol, Bin Block, Venus Protocol or Gaming related ideas. There is a market for crypto and gaming; I just think nobody has done it right yet.
Why follow 400 Unicorns?
–400 Unicorns does weekly De-Fi project overviews with news about the various yield farming projects.

–Regular information about various BSC projects.

–Positive attitude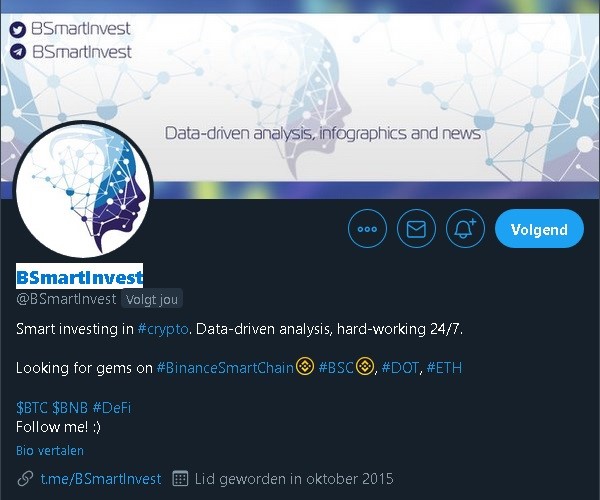 ‍
The BSC network has had several destructive projects, rug-pulls, and scams, how do you guys vet for trustworthy projects?
"There are several criteria for initial project valuation to avoid a rug pull:

– Whether the project has partnerships with more well-known projects or not.

– Whether the project is done just for yield farming or there is some unique idea and value for the BSC ecosystem.

– Evaluation of the overall quality of the project(team, code, overall impression).

– Evaluation of the economic model and tokenomics."
Using these metrics, what projects does BSmartInvest see value in on the BSC?
"I like Pancakeswap, JustLiquidity, Venus, Beefy. I also think Injective Protocol will announce BSC support for derivatives trading soon. There are also more speculative projects like Bakery, Burgerswap, Fries, Thugs, Narwhal, which are also quite good. "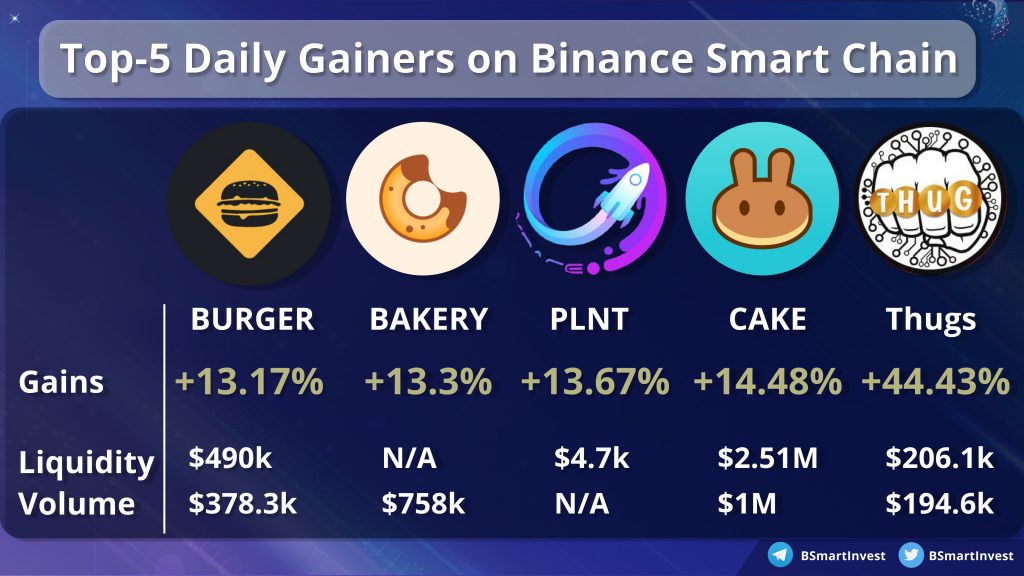 Why should you follow BSmartInvest?
–Professional infographics
–Information on several projects
–In-depth analysis of projects
–Active Telegram channel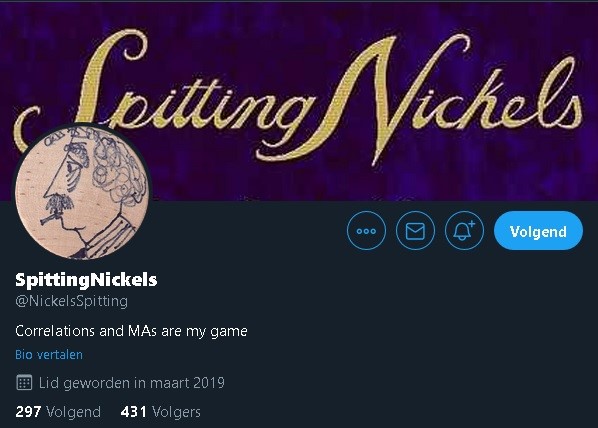 SpittingNickels has been in the crypto space for three years now. I asked him how he had gotten into the crypto space.

‍

"Have been trading equities for ten years or so. Always watched BTC closely in mid/late '17. Jumped in around $3k bottom in late '19. Been hooked ever since."
‍
‍
How did you find out about BSC network, and why did you like/love it?
I can remember it was ridiculously profitable back then. Combining that with fast, low-cost transaction fees and I was hooked. It is a totally different dynamic. Since then, the chain has gotten much more crowded, and scams are becoming more prevalent every day."
‍
What's your take on the many rug pulls and destructive projects? How do you go about vetting new projects?
"Most of these projects are cookie cutters and often launched by the same team of bad actors. It is really no different than on ETH. To me it seems right now that the scams are becoming wiser to the CeDefi nature of BSC and rugging for less money, but launching farms more often, hoping to escape the attention of Binance themselves.
I would also recommend building a network of people that are experienced and that you trust. More knowledge that you have at your disposal, the better."
What projects have promising futures ahead on the BSC?
"Beefy.Finance,Thug.Fi and Narwhal. All three of these have great teams and could have the potential to be cross-chain when ETH 2.0 finally launches. IMO those that are developing on BSC will have leg-up when faster, lower gas ETH 2.0 comes."
‍
Honorable Mentions
I have also asked the participants who they think deserves a follow. I will do a quick sum-up of them, the mentioned influencers are listed below:

DeFi Khaled (@DefiDebauchery)

Ogle (@cryptogle)

CryptoSupplyCo ($100k Bitcoin) (@CryptoSupplyCo)

BULL RUN SNIPER x 100 (@M0nkTrader)
Source : Bsc.news