Binance has allotted a US$1 billion fund to "push the adoption" of the entire blockchain industry and specifically of the Binance Smart Chain (BSC). The said fund is dubbed to be "the biggest funding program of its kind in the whole cryptocurrency industry."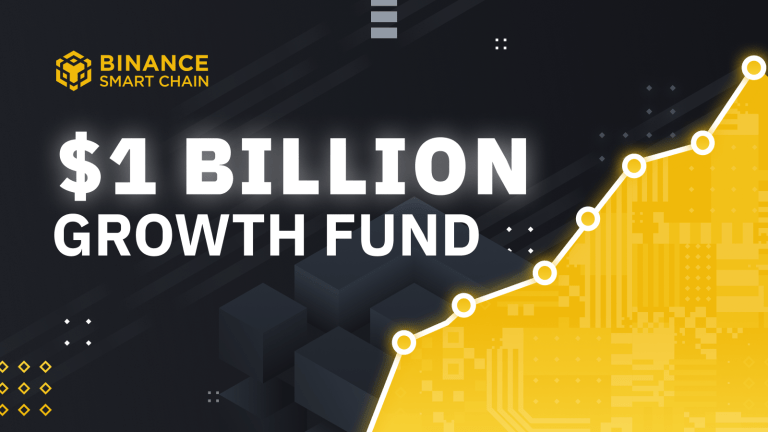 Binance's official announcement states:
Binance announces the biggest funding program of its kind in the whole cryptocurrency industry — the $1 billion fund to push the adoption of not only BSC but the whole blockchain industry.
Binance had earlier set up a US$100 million BSC Accelerator Fund (BAF) for supporting dApps on BSC at its launch. This US$100 million BSC Accelerator Fund went on to power with seed funding close to 40+ projects with US$1 million in realized fund allocation. Distinctly, 60 projects received incubation, courtesy of the Most Valuable Builder Program (MVBP). 
So far, more than 200 startups stand to benefit from Binance's funding boost via hackathons and grant programs. These beneficiaries include Build for Bharat, Gitcoin, Dorahacks events, Russian-SEA-Africa Hackathon, etc.

The BUIDL Reward Program dispersed over US$30 million to qualifying projects. Joint bounty or Priority ONE programs with lower than US$10 million security initiative have gone on to onboard and advance security of several stellar BSC projects.
'The World's Largest Crypto Accelerator' fund has 4 distinct categories: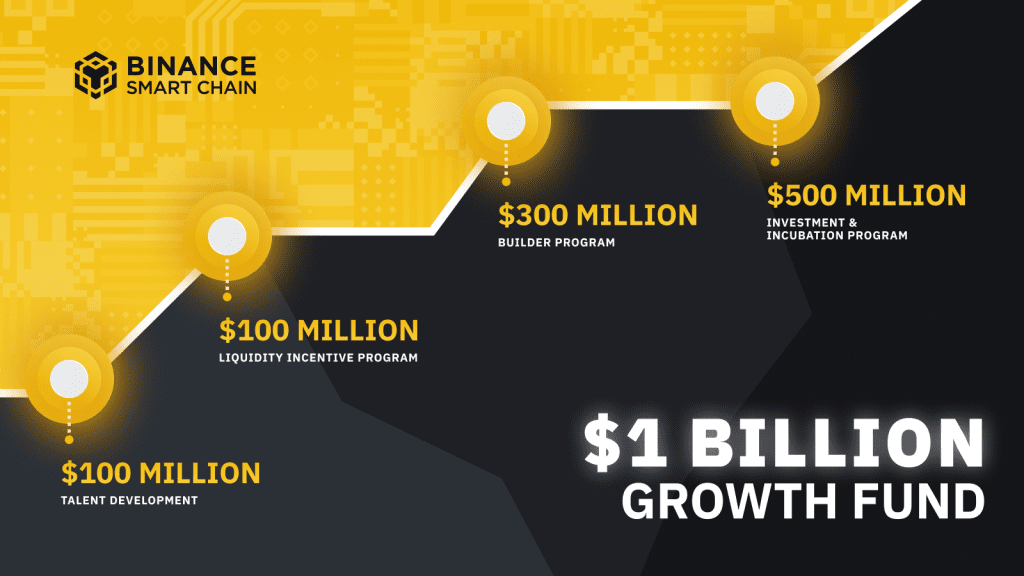 The US$100 Million Talent Development initiative comprises reservations for the following:
Mentoring developer communities

Educating new crypto investors

Providing academic scholarships to universities

Running boot camps

Supporting R&D on cutting-edge blockchain innovations (such as cryptography, multi-party computing (MPC), high-performance consensus protocols, cross-chain and multi-chain infrastructure, RegTech & Deep Analytics).
The US$100 Million Liquidity Incentive Program will encourage "traditional financial markets and crypto" participation. It will nurture "compliant relationships" among investors and assist emerging digital asset markets, as follows:
Offer liquidity rewards to particular protocols depending upon Innovation, TVL, active users, or trading volumes.

Make flexibility and support available for professional traders and institutions, offering higher liquidity in DeFi protocols.
In the US$300 Million Builder & Incubation Program, the allocation is as follows: 
US$100M would fuel regional and global hackathons

White hackers would extend advantages to joint bug bounty events

Developer conferences would be held, with enough support granted to current mainstream development events.

US$200M would boost the MVBP. It would also incubate 100 innovative dApps, whereas infrastructure providers using BSC to build would be mentored by top venture capitalists (VCs). They would also be getting BSC core community's technical support.
The US$500 Million Investment Program would "accelerate mainstream adoption," disrupting financial infrastructures. The fund would nurture the growth of decentralized computing, gaming, metaverse, virtual reality (VR), artificial intelligence (AI), and financial services (even beyond BSC itself).
The fund would aim to scale blockchain technology to match real-life use cases. It would also bridge the crypto-blockchain and the technical-financial sectors' prevailing gaps. Binance is aiming to create and thrive on a "new Internet of Value for everyone."
Source : bsctimes.com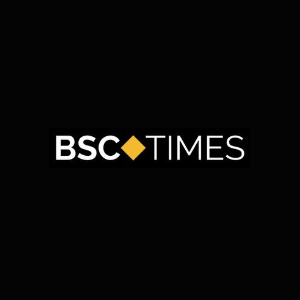 BSC TIMES is a private news network. All posts posted by this user belong 100% to bsctimes.com. All rights are reserved to BSC TIMES for more information about BSC TIMES contact BSC TIMES here.