cryptodaily.io hosts an AMA with LOGOS. #LOGOS #BNBChain #BSCDaily #AMA

Cryptodaily Admin: Hello everyone And welcome back to another AMA with BSCDaily! I'm Daley, and today, I'm joined by Jason – Project Manager at LOGOS

Jason: Hi Daley, thanks for the show!

Cryptodaily Admin: Good day to you Jason, how's everything?

Jason: So far so good! Hope I'm not too excited though

Cryptodaily Admin: There's nothing as such in BSCDaily I'm super hyped for today's AMA, and I guess the audience as well. Also, today's AMA is going to be an interesting one. As we all know, tourism was once one of the most powerful and largest trillion-dollar industries in the world economy. Then, in 2019, with the impact of the COVID-19 epidemic, the global tourism industry almost stagnated. At present, with the normalization of global COVID-19 epidemic prevention and management, the global tourism industry is actively recovering. We have reason to believe that the Blockchain tour Metaverse track, which falls on the entity and focuses on the future of the industry, will be ready to explode

LOGOS, as the early planner of the Metaverse racetrack, has been in a leading position in terms of technical structure system, ecological layout, and landing. In the following AMA, we will take a comprehensive analysis and understanding of LOGOS and see how LOGOS can continuously maintain the track competitiveness and expand its influence in the industry.

I guess that's enough for me to say! Jason, are we ready to dive right in the AMA? 

Jason: Sure! let's go for it

Cryptodaily Admin: Perfect So let's start today's AMA with the first segment: Q&A with the host
---
Q1: Firstly, please introduce yourself and LOGOS in short?

Jason: Sure, I'd love to. I'm Jason. I have 15 years  experience in software project management, and have worked as a software project manager in large software service companies across multiple countries such as Malaysia, the Philippines and South Korea. At present, I'm the chief operating officer of LOGOS and responsible for the global operation of the LOGOS platform. LOGOS is a Metaverse service provider focusing on the global tourism industry, from South Korea, dedicated to creating a brand-new tourism Metaverse for global users. In LOGOS, you can enjoy the world's unbounded payment experience through the LOG-PAY system. Through LOGOS ZONE, you can view the most authentic evaluations and services of scenic spots in the world, enjoy the most professional encryption fund investment services and the coolest GameFi.

In short, LOGOS will become a Metaverse community space that can meet your travel, investment, entertainment and social demand.

Cryptodaily Admin: There are actual needs with payments through Crypto, and LOGOS is doing just that! To help crypto enthusiasts better utilize their funds, in real world that is
Q2: So what's the initial point of initiation and creation of the LOGOS ?

Jason: Well, as we all know, the COVID-19 epidemic in 2019 has greatly impacted all walks of life in the world, especially the tourism industry. The practitioners in the global tourism industry are all facing a huge survival crisis, and we see opportunities for industrial upgrading and evolution. The current tourism industry is facing a series of centralized trust problems, such as high cross-border transaction feets, fake reviews, high operating costs and high commissions. We see that the technical characteristics of decentralized Blockchain can perfectly solve the current problems of the tourism industry, so we will first solve the industrial pain points of high cross-border transaction fees as a breakthrough, and develop a LOG-PAY global payment system.In addition, we also found that there are a large number of tokens in the Blockchain industry. How to find the value of tokens is a difficult problem faced by many developers and investors.

LOG-PAY is a global encrypted currency payment platform based on the Blockchain, which connects consumers, stores and enterprises in the professional entity economic zone extensively. Users and partners around the world can pay securely and quickly on the multilingual LOG-PAY platform, and various alliance groups can use LOG wallet and LOG-POS to obtain services such as promotion, payment and sales management. Therefore, solving the problems of traditional industries and boosting the traditional economy is the initial idea initiated by LOGOS, and it is also an effective solution for the value discovery of current ecological tokens.

Cryptodaily Admin: That's nice, I would love to dig deeper into the LOG-PAY and how to pay with it. But first, let's get to know more about the brains behind this project, since this sounds like a huge vision to take on
Q3:  Could you please briefly introduce the LOGOS core team members?

Jason: The core members of LOGOS have rich experience in tourism, Blockchain and software services. For example, our CEO ,Sean, who has been in the tourism industry for 15 years, has rich industry resources and experience. Under his leadership and efforts, travel agencies from many countries have joined the LOGOS project and started to establish the infrastructure of the logos-zone from Southeast Asia.

There is also our CTO Adam, who has 20 years of rich experience in the field of network engineering and system design and has led the technological research and development of many large projects. With his help, we have application refresh efficiency beyond industry standards.

And I put myself into the core group!

Cryptodaily Admin: If you don't mind me asking, are they, including you, public? If not, do you plan to in the future?

Jason: We are willing to put ourselves at the front, but as you know, we wanted to put the LOGOS in the front at this moment. You'll see them one by one online

Cryptodaily Admin: Cool, as the platform progresses, I think the team would love to go full public Right, so back to the LOG-PAY, since it's one of LOGOS' main focus
Q4: please briefly introduce LOG—PAY and how it works?

Jason: Sure. LOG-PAY is a new generation of global encrypted currency payment system based on Blockchain. We will not mention the shortcomings of the traditional legal currency payment system, such as slow efficiency and high handling fee. Compared with the previous generation of Blockchain payment system, Log-Pay solves the problem of value volatility in current encrypted payment, ensures the ease and stability of encrypted asset payment. More importantly, the goal of LOG-PAY from the beginning is not only to encrypt the payment on the user's line, but also to focus on a specific industry, such as tourism, entity businesses under connecting lines, alliances and intermediary organizations, to help solve the payment system problems they are facing.

Cryptodaily Admin: Right, so in the early stages of LOG-PAY, which cryptocurrencies do you accept? the top ones like BTC, ETH or BNB only?

Jason: the primary functions are tested with LOG token, and under the system we support all mentioned BTC, ETH, and BNB as well.

Cryptodaily Admin: Neat, and of course, people can research more on the mechanics of the LOG-PAY system in your whitepaper, available on your website here: logos-foundation.org/logos

Jason: Thank you for the link!

Cryptodaily Admin: LOGOS does not only focus on solving payment problems regarding traditional tourism, but also building Metaverse and Games
Q5: Why does LOGOS position itself as a travel Metaverse?

Jason: At present, each of the ecological tokens in the encryption industry has the problem that tokens are difficult to circulate and interact with each other. LOGOS is committed to provide the industry with an executable solution for token value discovery. Of course, this is also a blueprint for the development strategy of LOGOS based on its own resources and advantages. LOG-PAY is the core of the technical structure and application of LOGOS, but the ecology of LOGOS does not stop at LOG-PAY. In order to promote the circulation and stability of LOG, we put forward the tourism Metaverse ecological layout strategy of LOGOS ZONE, which includes tourism, finance, DAO and GameFi. We are committed to build a Metaverse community space that meets users' travel, investment, entertainment and social needs, and a Metaverse value space with full circulation of LOG. We are delivering expanded experiences of the payment and travel into the metaverse at the same time.

Cryptodaily Admin: Man you don't say In other words, LOGOS is releasing tons of use cases for their token LOG, which in the future, will ensure the steady rise in the token price, and why don't we touch on that a little?
Q6: What is the current circulating market value and future target of the ecological token LOG?

Jason: The total circulation of LOG is 200 million pieces, but the current circulation is almost less than 1%, and the market value of the whole circulation is less than 500,000 usdt, because the initial operation and development work are all independently developed. However, with the opening of the LOGOS zone, the plan to be on exchange, we will provide liquidity for ecological construction one after another, and the liquidity will be different through participating cooperative units and supporting points. Moreover, we have already cooperated with the tourism chain organization in Korea, and 50k customers will have priority to experience our services and logos zone.

Cryptodaily Admin: Congrats. So you've been teasing us with your plans to develop ecological constructions, and you've been in partnerships with a tourism chain in Korea as well
Q7: Is that the ecological application that LOGOS has implemented so far? And what's the future plan?

Jason: At this stage, we mainly engage in the infrastructure construction of the LOGOS zone in Southeast Asia. At present, we have established the LOGOS zone in Da Nang, Vietnam. In the future, we will actively seek like-minded organizations, institutions and alliances around the world to realize the global coverage of the LOGOS zone. Of course, in addition to expanding the LOGOS zone in the real world, we should also realize the corresponding LOGOS zone in the Metaverse, so that more people can experience the immersive feeling of tourism and the expansion of financial direction. On the technical level, our LOGOS Payment system is actively undergoing internal testing, and we believe that we will be able to provide a brand new payment experience soon for users around the world.

Cryptodaily Admin: Let's goo keep on expanding. And don't forget, that's only their 2022 plans, to target the Southeast Asia region. 2023 is Northeast, and do you want to introduce the rest Jason?

Jason: Slowly to the rest of the world of course! Our plan is to expand to the rest of the asia first, and then the western, however, it'll also need a lot of research before expanding.

Cryptodaily Admin: So, my last question for LOGOS is:
Q8: What is the plan for LOG to be online?

Cryptodaily Admin: This is what investors want to know most as well

Jason: At present, there are many exchanges in contact with LOGOS. LOG will launch at least one of the world's top exchanges in the near future. Please pay attention to LOGOS official website and social networking platforms for specific confirmation. We will announce them shortly.

Cryptodaily Admin: Here we go, check out their links here:

Official website: logos-foundation.org

Twitter: twitter.com/FoundationLogos

Telegram: t.me/logos_foundation

Media: medium.com/@logosFoundation
---
Cryptodaily Admin: With this we are now at the end of our AMA session with LOGOS

Saatnya untuk mengakhiri, ada kata-kata terakhir yang ingin Anda sampaikan kepada komunitas kami?

Jason: Well, it was a great honor and pleasure to have a talk about LOGOS! I hope this AMA session was helpful for the community and for future LOG holders! Thank you so much for your attendance and interests!!

Cryptodaily Admin: Thank you Jason for coming on and introducing LOGOS to the BSCDaily fam! We wish you nothing but success in your upcoming journey with LOGOS
Sumber : coinwire.com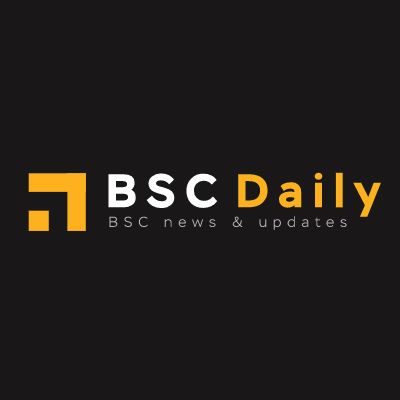 PENULIS RESMI POSTINGAN INI ADALAH BSCDAILY.COM

BSCDaily.com memberi Anda berita, panduan & proyek unggulan Binance Smart Chain terbaru.