The AVAX token farming at Banksy Farm has come to an end! Now, it's time to move to the next phase: the second version of Banksy Farm. Banksy farm has been on this journey for quite a long time. Three levels are live now, each with its own set of characteristics so far.
Certainly, each investor has his or her own plan. Banksy Farm provides a suggestion for how it may be managed to maximize profit, as we see it. Banksy Farm is glad to introduce its tokens to its members as part of the community excursion around Banksy Farm. Let's speak about Banksy Farm and how long it's been around before we get to the conclusion of AVAX farming. In this article, we will also talk about the upcoming Banksy Farm V2.
What Is Banksy Farm?
Banksy Farm is a financial plan or practice that can assist you in being financially successful. Banksy Farm is an NFT-assisted New Generation Multi-Network Yield Farm. Banksy Farm is an Avalanche-based multi-project network. Users will access the platform's current stake pools, including various alternatives.
Banksy Farm might be the most sophisticated yield farming system ever to enter the DeFi market. The project's development team attempts to remove any technological hurdles to DeFi investment by providing a smart user interface that makes staking crypto assets a snap. Banksy Farm has been a MULTI-Network Project since its start. This user-friendly software allows investors to keep track of all their assets by instantly seeing historical, current, and projected earnings.
Summary Of AVAX Token Farming
It's incredibly thrilling for us to describe what happened during the project's first week. A lot happened, and we'd like to summarize it here. The pre-sale was a huge success, with about 71,000 tokens have been sold. As a result, Banksy farm created a very high first liquidity of about 142000 tokens.
This mode of launch received a positive response from the public. Many people competed and won. Those purchased in Presale made a 30% profit at the start of the agricultural season.
NFT
The first three steps of the NFT sale have been completed. They have all been released for now! Keep in mind that the projected first-tier prices per NFT are as follows:
Early bird discounts are available. SOLD OUT 1 — First Layer Price: $15
Early bird discounts are available. Price: $20 — SOLD OUT 2 — Second Layer Early access
LEFT: 3 — Third Layer Price: $25–100
Sale to the general public— Cost: $40-$50
Coming soon, Farming is off to a great start. On the first day, they had a TVL of $2 million.
Emission Rules
They chose this steady emission rate pattern to ensure that APRs remained as high as feasible during Farming, incentivize liquidity providers, and build new partnerships. The emission rules dependence was on the start of Farming:
First 24hs – 12/21 – 8 tokens per block
Second 24hs – 12/22 – 6 tokens per block
From 12/23 to 12/30 – 4 tokens per block
From 12/31 to 01/06 – 2 tokens per block
From 01/06 till the end of supply – 1 token per block
AVAX Banksy Finance Token Information – Tokenomics
The Banksy Farm Multi-Network coin is $Banksy Token. Because of its novel emission regulations, this coin is deflationary. The first $Banksy Token released on Avalanche Network
Manfaat
For prizes, Banksy can be farmed.
On vaults for prizes, Banksy can be staked.
Hold Banksy on Walls to win tokens from your teammates.
Policy on BuyBack/Burn
To assist the community in maintaining more consistent prices, they've decided on the following buyback policy: Buybacks will occur when Banksy Farm experts assess if a price adjustment is necessary.
Everything returned will either be burned or used in future collaborations. Pre-sale allocation plus deposit charges will be used to pay for burn backs. Tokens that are unsold during the Presale will be utilized for partnerships, or they will be burned if Banksy Financial experts deem it essential.
Bonuses And Multipliers
Their financial team will monitor the price of tokens and deposit behavior to guarantee we have the best multipliers and bonus structure possible while Farming. During Farming, multipliers and bonuses may change. Everything has been queued manually and will happen at a set time
Max Supply Distribution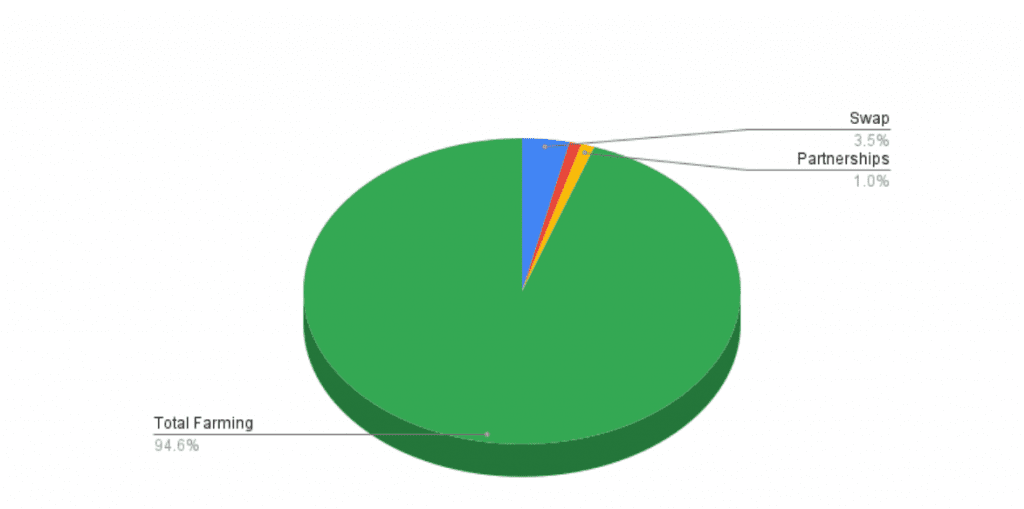 AVAX Farming Details

A Sneak Peek at Banksy Farm Version 2
The Banksy Farm team constantly explores new ways to add value to their community. So, now that AVAX and FTM have been released, it's time to reveal the platform's version 2 updates. The following are the changes that we will see in Banksy Farm Version 2:
Improved and new Native NFT enhancing MasterChef. They have only boosted barriers up until now. You will now be able to enhance what you have put in their pools/farms. Owners of NFTs will be able to earn a higher payout this way.
Lockup for Harvest
You'll be able to keep higher rates and APRs for a more extended period using this option. Although it is a contentious characteristic, it is beneficial in the early hours of Farming. The manner in which it will be utilized will be notified as soon as it is determined.
Farming Experience
You will gain extra experience every time Farming is increased using NFT from now on. As a result, the more you use it, the more valuable it becomes.
DAO
More and more methods, notably Banksy Farm, are being added to their Snapshot Space. Keep accumulating NFTs since they are the DAO's backbone!
LaunchPad
The team will curate high-potential initiatives for the community to analyze and invest in. After that, they will have their own Project LaunchPad. In this section, you'll find a selection of the top projects accessible for the community to invest in and put their share.
Bagaimana cara menghubungi