The future of finance and nfts is decentralized. Miami is ready to hold what it boasts, "the largest Bitcoin event in history, Dcentralcon" after a long period without any significant in-person crypto conferences. DCentral Miami Conference is taking place from November 30 to December 1, 2021
The venue will feature three dedicated stages with Keynotes, Panels, Workshops, and Talks focused on Decentralized Finance and NFTs concurrently over the two days. It is an invitation for the global NFT community to connect with the world of DeFi at the combined event DCENTRAL Miami.
Medabots will be present during the Dcentralcon conference!
Medabots.io created Medacoin, which is used to exchange cryptocurrency. Isn't it fascinating that you can play games while also trading cryptocurrency? However, do you know what is more exciting? It is that Medabots will be present at Dcentralcon Conference. We are more than thrilled to share this news with the users. There is much of a surprise that we will disclose in this article, so Continue reading to find out more about Dcentralcon and Medabots being featured on the prior also about the surprise.
Without delay, let's dive right into it.
About Dcentralcon Conference:
Dcentralcon is the world's largest conference devoted to NFT and DeFi, Where the globe gathers to celebrate art, fashion, creatives, and the financial future. At the combined event DCENTRAL Miami, the global NFT community is invited to engage with the world of DeFi.
They have brought the worlds of NFTs and Decentralized Finance together under one roof. Join Dcentralcon for the world's largest conference on NFT and DeFi. They invite the NFT creative community to truly connect with the world of Decentralized Finance at the combined premier event DCENTRAL Miami. The Venue for Dcentralcon is Miami Airport CONVENTION CENTER (MACC)-711 NW 72nd Ave(Miami, FL 33126).
Date: November 30 to December 1, 2021

It includes 3 stages:
Stage 1 – NFT Stage
Stage 2 – Permissionless Stage
Stage 3 – ALPHA Stage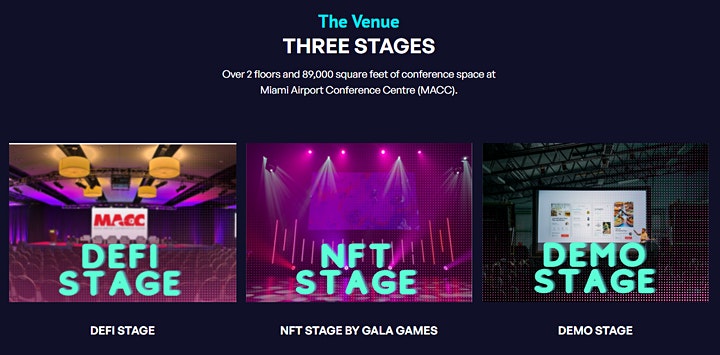 The event will be located at the Miami Airport Convention Center.
18+ Layer 1 / Layer 2 Represented
4+ Galleries
6+ Digital Fashion
15+ Play 2 Earn Booths
Speakers include:
Joseph Lubin: CEO, ConsenSys
Luis and Daniel Moncada, Representing Medabots
Peng Zhong: CEO, Tendermint (Cosmos)
Ran Neuner: Founder, CryptoBanter
Ian Balina: CEO & Founder, Token Metrics
Jaimie Rogozinski: Founder, WallStreetBets
John Ken: Founder & CMO, Genesis Block
Jonathan G. Blanco: CEO & Founder, Niftmint
Avery Akkineni: President, SKALE Labs
Jay Mithani: Developer, Serum
Ben Lakoff: Co-Founder, Charged Particles
Jeremy Lewis: Senior Director, NFT Acquisition, Crypto.com
Suki Yang: Quantitative Researcher, Pantera Capital
Greg Osuri: CEO, Akash Network
Mattison Asher: DeFi Market Strategist and NFT Researcher, ConsenSys
Chjango Unchained: Advisor & Ecosystem Developer, Cosmos / Osmosis
Eva Beylin: Director, The Graph Foundation
Tor Bair: Founder, Secret Foundation
Website: dcentralcon.com
Sponsors:
Some of the crypto industry's leading leaders and constructors are among DCentral's sponsors. Sponsors' knowledge and capabilities transcend the ecosystem, becoming the backbone of the crypto economy. DCentralcon Miami has got you covered, whether you are looking for a turnkey display, dynamic brand exposure throughout the summit, or a customized chance to reach a specific audience.
Check out their sponsored partners here: Sponsors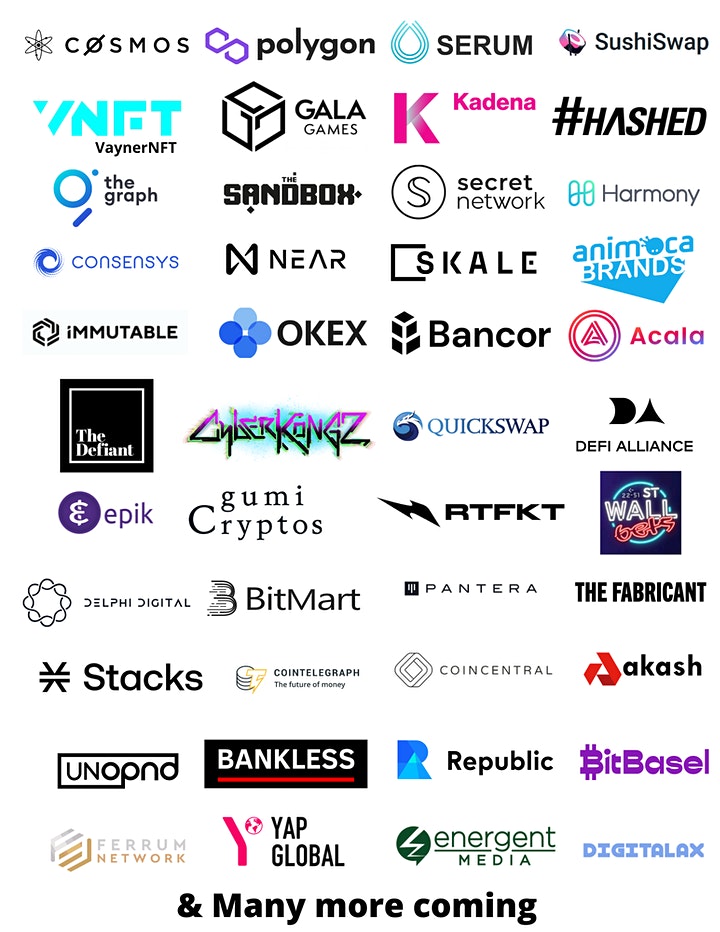 Cryptocurrency is gaining popularity, and more people with criminal intentions are becoming interested. As the world awaits the Dcentralcon Conference with bated breath, everyone must take the required precautions to keep their crypto safe. Because of the nature of cryptography, any loss is difficult to detect or recover. DCentral Conference will serve you with a great opportunity to learn and grow in the crypto world.
MedaCoin:
With the debut of Medacoin, a well-known IP has entered the cryptocurrency realm. "MEDA" is a revolutionary new cryptocurrency (BSC token) that allows gamers to manage their virtual in-game assets! The token will also be the Medabots NFT Marketplace's native currency.
The total supply of Meda is 100,000,000,000 i.e 100B tokens. Ten percent (10B) of those tokens will be used for research and development (R&D) for the Medabots video game, ten percent (10B) for Medacoin and Medabots marketing, and fifteen percent (15B) for staking rewards.
Players will be able to earn rewards by staking their Medacoin. The rewards will begin large in order to promote user growth; then, as Medacoin matures, the incentives will progressively decrease.
Auto-Liquidity Tax: A 5% tax on all purchases and sales will be sent to an auto-liquidity to generate a growing base price for all of our tokens. 40% of the quantity will after that be made available for public sale in Pancake Swap.
NFT Marketplace by Medabots
Don't miss out on Medabots' next big NFT move. MEDA is a cryptocurrency that allows gamers to manage their in-game virtual assets. The token will be the Medabots NFT Marketplace's native currency, providing value to the game's users. The token will have a variety of other applications once it is included in the game, as listed below:
Purchase both in-game and real-world Medabots items.
Participate in live tournaments to earn tokens.
Medacoin tokens can be used to enter wager matches.
Create your own Medapart NFTs from the ground up.
Roadmap:
2017 the development of Medabots begun
Q2 2021 the creation of medacoin
Q3 2021 Medacoin Launch
Q4 2021Launch Medabots Video Game and marketing
Q2 2022 Medacoin integrates with Medabots ecosystem
How to Contact:
Socials
Medabots Booth Set Up At Dcentralcon Conference
We have great news for Medabots members that there will be a terrific booth set up at the conference for Medabots. They have two speaking spots, and the Moncada brothers will be there too to represent Medabots. Being a part of this conference will benefit Medabots and other finance and NFTS that are decentralized, and Dcentralcon predicts the future of these decentralized mediums.
Moncada Brothers
Two well-known actors who have been in a number of violent television episodes have now opted to join the intriguing Medabots project. Luis and Daniel Moncada are two admirable men who will be present during the Dcentralcon Conference happening in Miami.
Many individuals were skeptical about whether Luis Moncada and Daniel Moncada would indeed join forces with Medabots. Many of their followers are exhibiting even more faith in the MEDA project now that they have done an AMA within the Medabots group and confirmed their ambassador's role on their Instagram sites. They are not cousins, as depicted on television, but they are brothers. Luis had already established himself as an actor long before Daniel, who had his first appearance on Breaking Bad.
While his performance on Breaking Bad will be remembered the most, Luis had had a successful acting career from his debut job in 2002. They both signed as ambassadors of Medabots and will be presented as crucial speakers of Medabots during the conference. They announced this news on specific platforms such as Instagram and Twitter and confirmed it with an AMA hosted.
In the AMA, they announced that they were happy to be a part of Medabots and showed great excitement towards the new projects that Medabots is launching and how big the game was regarding cryptocurrency.
Medabots' Future
With the advent of mobile games on both Android and iOS, the future of Medabots is intended to be the biggest crypto game and span many areas; it has already made a reputation for itself, but it is expanding on other levels as well. The good news is that consoles and PC games are now, and we anticipate that movies and stuff will be available starting next year. Along with the game's release on electronic devices, other significant cooperation partnerships are in the works and will be announced as they are finalized. Such as Medabots being a part of the Dcentralcon Conference and Moncada brothers being the ambassadors for Medabot and Medacoin is a huge step.
Final Thoughts:
While a small number of conferences have taken place in the last year, most have been small in scope or have only had remote attendees. Whereas the return to normalcy of the Dcentralcon Conference 2021 is a warm welcome to the crypto world. Dcentralcon is the LARGEST conference dedicated to NFT and DeFi in the world.
And, the presence of Medabots at the event will be really beneficial. As Dcentralcon will bring together people from all over the world to celebrate art, fashion, creatives, and the financial future. The global NFT community is welcome to engage with the world of DeFi at the combined event DCentral Miami.